Esther Pauline Geisler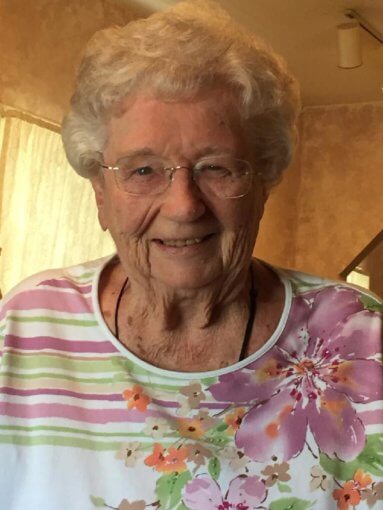 Esther Pauline Geisler was born on July 15, 1927 to Herman Heinrich "Henry" and Leola Louise (Smith) Werner at their home in Golden Corner in Brown Township, Ripley County, near Friendship, Indiana. Esther loved her German heritage and was a lifetime member of St. Paul Lutheran Church in Olean, Indiana where she was baptized on August 14, 1927 and confirmed in faith on May 28, 1939.

Esther lived most of her childhood years near Cross Plains, Indiana and attended the one-room schoolhouse, Jolly School, until the 8th grade when the schools consolidated into Cross Plains High School. She attended there until the family moved to Versailles where she attended her last two years and graduated from Versailles High School in 1945. She was then employed for 3 years as a stenographer at Westinghouse in Cincinnati, Ohio, and spent the rest of her life at home as a devoted farm wife and mother. She loved cooking, sewing, cross-stitching, gardening, scrapbooking, serving and quilting for missions with the women at St. Paul Lutheran Church, and involving herself with the Correct Homemakers and 4-H organizations of Ripley County for many years.

Esther met the love of her life, Charles Raymond Geisler, when he came to St. Paul Lutheran Church in Olean with a friend during their high school years and they were married there at Olean on September 18, 1948. They celebrated almost 65 years together as husband and wife until Raymond preceded her in death on June 3, 2013.

They had 4 children: sons William David "Billy," Richard Wayne, daughter Melissa Jane, & John Raymond Geisler.

Esther was also preceded in death by her parents, her sons Billy and Richard, her grandsons Joe & Brian Geisler, her three brothers: Norman Charles Frederick, Herman "Duke" Jr. and Estol Martin "PeeWee" Werner, her sisters-in-law Eleanor Whitaker, Maxine Werner, and Marie Werner, and brother-in-law Roy Whitaker, and many aunts & uncles and cousins. Esther will be sadly missed by her loving family: Melissa (Steve) Spencer, John (Lisa) Geisler, and Mrs. Mary Ann Geisler, grandchildren: Jennifer Spencer, Dan (Liz) Geisler, Jeff (Kelly) Spencer, Jodie (Josh) Spencer, Jessica (Nathan) Lehman, Kevin & Cody Geisler and great-grandchildren Katie Spencer, Forrest & Penelope Spencer, Cooper, Cohen, & Quinn Spencer, Connor, Carson, & Charlie Lehman, and Robbie & Freddie Geisler, and sister-in-law Mrs. Katie Werner, along with several nieces and nephews.

Visitation was held at the Stratton-Karsteter Funeral Home in Versailles on Monday, July 5, 2021 from 4:00pm to 7:00pm and the funeral was held at St. Paul Lutheran Church in Olean on Tuesday, July 6, 2021 at 11:00am with Rev. Sue Socha officiating and graveside services followed in the St. Paul Lutheran Cemetery. Memorials may be made to the St. Paul Lutheran Church of Olean General Fund.