Frank Carl Wenning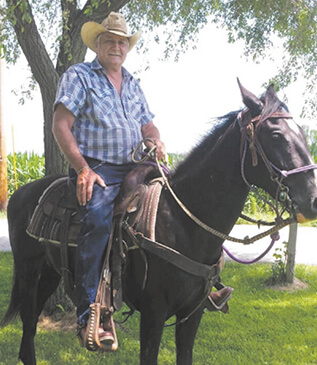 A notable chuckle and smiling face has taken his last horse ride. Frank Carl Wenning, age 75, of Osgood passed away on his farm early Sunday September 10. Frank was born on February 27, 1948 the son of the late Carl and Ruth (Brankamp) in Greensburg, Indiana.
Frank had attended Jac-Cen-Del High School. He was drafted in 1968 and proudly served in the United States Army. While serving, Frank was injured twice and received 2 purple hearts.
If you knew Frank, you knew his passion and love for his horses. He purchased his first horse for $80.00 from the sale barn in Rushville. This was only the beginning, with his herd growing to 35 at one point. He was cowboy to the core and was a modern day horse whisperer, breaking numerous animals over the years. He loved to attend the Comer Wagon Train, and took his last wagon ride just last weekend.
He lived in Seattle in the late 70's and worked at a saw mill. The vast majority of his career he was heavy equipment operator for the local union hall.
Frank will be missed by daughters Robyn (Brian) Grossman and Jamie Wenning, son Lance (Shelly), special friend Diane Tunny, sisters Rosalie Calhoun and Susan (Mike) Youngman, grandchildren Ryan (Miya) Gill, Joseph Gill, Amberlee (Dave) Cornett, Seth Wenning, Carissa Wenning, and Lillian Wenning, and great grandchildren Kinsey and Brennan.
Visitation will be held from 3-6 pm. on Wednesday September 13 at Neal's Funeral Home in Osgood. Funeral services will be held at 6 pm., also at the funeral home. Private burial will be at St Maurice Catholic Cemetery in Napoleon. Memorials can be given to the family in care of the funeral home. Online condolences can be placed on Nealsfuneralhome.net. Everyone is requested to wear their western attire.