Geneva Hambrick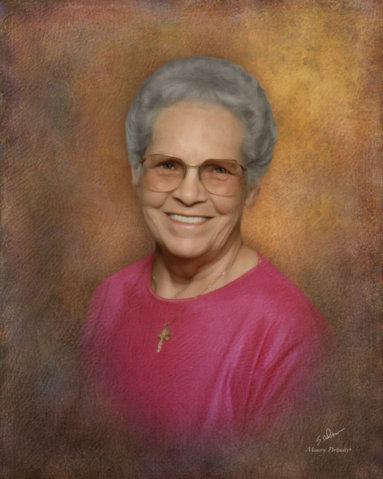 Mrs. Geneva Florence Craig Hambrick, age 95, of Franklin, Indiana, entered this life on Sept. 11, 1925 in Hanover, Indiana. She was the loving daughter of Charles Willis, Sr. & Goldie Florence Scott Craig. She was raised in Jefferson County and attended school there. She was united in marriage on October 10, 1945 at the First Baptist Church in downtown Madison to Giltner Allen Hambrick. This happy union of 36 years was blessed with a daughter, Donna and a son, Eric. She was employed with the U.S. Shoe Corporation for 43 years and was one of the first employees hired at the Vevay plant. She retired as a supervisor and instructor and had worked in the Madison plant as well. She moved to Aurora, Indiana in 1985 and worked at Wal-Mart for six years as a greeter. She was a member of the Osgood Baptist Church and the Beginnington Chapter No. 407, Order of the Eastern Star for over fifty years. She enjoyed reading & socializing with her friends and family. She moved to the Franklin Masonic Home when she was 85 years old. Geneva died on Sunday, December 27, 2020, at 5:55 a.m. at the Franklin Masonic Home in Franklin, Indiana.

Geneva will be missed by her loving son, Eric Hambrick & his wife: Tonia of Madison, Indiana; her loving daughter Donna Frank & her husband: Richard of Crestwood, Kentucky; her grandchildren, Rhonda, Melissa, Sean, Rick, Kristen, Jennifer, Heather and Aaron; her great grandchildren, Briana, Jordan, Dalton, Nicholas, Abigail, Hunter, Logan, Bryant, Cason, Camira, Trey, Naelee, Hunter, Kirbow, Isaac, Holly, Lucas and Zach; her great great grandchildren, Erica, MacKenzie, Jenson, Ylena and Jackson; several nieces and nephews and other relatives. She was preceded in death by her father, Charles Willis Craig, Sr., her mother, Goldie Florence Scott Craig, her beloved husband of 36 years, Giltner Allen Hambrick, died July 19, 1981, her sisters, Kathryn Jenkins, Mary Emma Barnes, Louise Humphrey, Marjorie Sullivan, Crystal Clutts and Nora Kohr, and her brothers, Clarence, Albert, Virgil Russel, Charles Willis, Jr. and Bennie Craig.

Private family services will be conducted Monday, January 4, 2021, at 1:00 p.m., by Pastor Steve Allen at the Morgan & Nay Funeral Centre, 325 Demaree Drive in Madison, Indiana. Interment will follow in the Grandview Memorial Gardens, 9306 North US 421 near Madison, Indiana. If you wish to watch Geneva's funeral, log onto our Facebook page, Morgan and Nay Funeral Centre. After going to our page, click on video and click on the video for Geneva Hambrick. The video will be up 10 minutes before the service.

Friends may visit Monday from 11:00 a.m. – 1:00 p.m. at the Morgan & Nay Funeral Centre, 325 Demaree Drive in Madison, Indiana. Memorial contributions may be made to the American Cancer Society, Alzheimer's Association or the American Heart Association. Cards are available at the Morgan & Nay Funeral Centres of Madison and Hanover. Online condolences, remembrances and memorials can be left at www.morgan-nay.com.