Gilmore C. "Gil" Abplanalp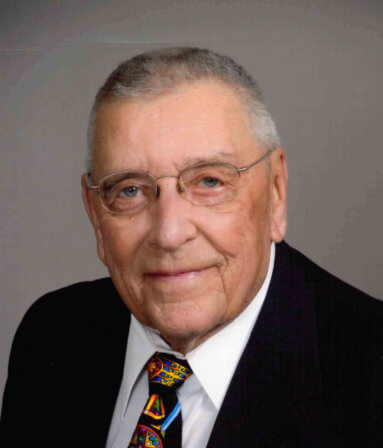 Gilmore C. "Gil" Abplanalp passed away on Wednesday, May 26, 2021 at his residence in Franklin.

He was born in Ripley County, Indiana on January 14, 1925 to Joseph and Elsie (Peetz) Abplanalp. He grew up on the family farm and graduated from Osgood High School in 1943 where he earned academic honors, and lettered in basketball, softball and track and field. He volunteered for service in World War II, serving in the United States Army Air Force from 1943 to 1946 as a Navigator-Bombardier. He attended Davidson College while in the Aviation Cadet Program and in 1946 enrolled at Purdue University, from where he graduated with honors with a degree in Civil Engineering in 1949. From 1949 to 1952 Gil was a road construction Engineer with the Indiana Department of Highways.

Gil met Rita Burch, the love of his life, in 1951, and they were married on August 2, 1952 at Loogootee, Indiana, and lived at Franklin, Indiana their entire married life of sixty-three years until Rita's passing in December, 2015.

A registered professional Engineer and Land Surveyor, he was co-owner of Freese and Abplanalp, a civil engineering and land surveying firm located at Franklin from 1952 to 1982. Semi-retired, Gil was then employed part-time as Owner's Representative on larger construction projects by Johnson Memorial Hospital and the Franklin Community School Corporation until 1990.

Active in both professional and civic affairs, Gil, was a life member of the National Society of Professional Engineers, the American Consulting Engineers Council, The Commemorative Air Force, and the Grissom Air Museum. He had also been a Director and President of the Franklin Chamber of Commerce, the Johnson County Health Foundation, the Franklin Educational Foundation, and Grada Corporation. Gil also had been a board member of First Federal Savings and Loan Association at Franklin, the First Indiana Bank Advisory Board, Consulting Engineers of Indiana, the Indiana Society of Professional Engineers, Hillview Country Club, and Franklin Little League, where he also managed Little League teams for nine years.

After retirement, Gil served on the Franklin City Economic Development Commission, and the State of Indiana School Tax Control Board. He was also a recipient of the 1984 Franklin Chamber of Commerce Outstanding Citizen Award and the Chamber's 1996 Senior Citizen Award. He was a member of American Legion Post #205, the Purdue President's Council, the Purdue Alumni Association, the Franklin College President's Club and the American Airpower Heritage Group.

He was a 40 year member of Advent Lutheran Church at Greenwood, Indiana, where he served on the Church Council, as Church Treasurer, Property Chair, and in the Choir. Since 1999, he was a member of St. Rose of Lima Catholic Church at Franklin and served on the outside maintenance group.

Gil enjoyed playing his guitar and harmonicas, singing country and western music, and listening and dancing to the Big Band music from the World War II rera. He enjoyed gardening in earlier years, especially raising blackberries and strawberries, and golf, volunteering, and traveling with family and friends.

Gil is survived by his sons, Garry (Laura) of New Albany, Indiana and Dean (Dorcas) of Franklin, a brother, Delbert (Dorothy) Abplanalp, two step-grandchildren, Jon (Carly) Blankenship and Jenni (Brian) Dick, three step-great grandchildren and numerous nieces and nephews.
Father Paul Shikany will conduct a Mass of Christian Burial on Thursday, June 3, at 11:00 a.m. at St. Rose of Lima Catholic Church, 114 Lancelot Drive, Franklin, Indiana 46131. A visitation for family and friends was held on Wednesday, June 2 at Flinn and Maguire Funeral Home, 2898 North Morton Street, (U.S. 31 North) in Franklin. Burial will be on Thursday, June 3 at Greenlawn Cemetery where military honors will be conducted.

Gil appreciated the beauty of flowers, however, he loved his community more. In lieu of flowers, memorial contribution may be sent to the Johnson County Community Foundation, Good Cheer Fund, P.O. Box 217, Franklin, Indiana 46131; the Interchurch Food Pantry of Johnson County, 211 Commerce Drive, Franklin, Indiana 46131 or the Johnson County Museum of History, 135 N. Main Street, Franklin, Indiana 46131.

Expressions of caring and kindness may be received to the family at www.flinnmaguire.net