Gloria Louise Hunter Mitchell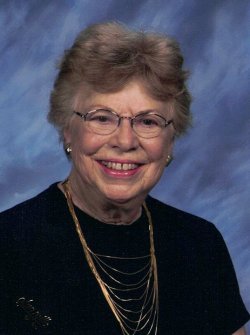 Gloria "Louise" Hunter Mitchell passed away peacefully at Margaret Mary Community Hospital in Batesville, Indiana on Sunday, October 11, 2020. Born in 1927, in Madison, she was the daughter of the late Roy and Mabel Hunter.

She was preceded in death by her older brother, William "Billy Boy" Hunter; her husband, James Mitchell; and her daughter, Mary-Ann Mitchell Sainsbury. She is survived by her daughter, Susan Mitchell; her son-in-law, John Sainsbury; her three grandchildren, Allie Sainsbury, Hunter Sainsbury, and Brittney Mitchell; and her beloved cat Toby.

Raised in Versailles, she was a 1945 graduate of Versailles High School and went on to earn her degree in business education from Indiana University in 1949. While in Bloomington, she was a member of the cheerleading squad as well as Zeta Tau Alpha Fraternity. She met her husband of 42 years, James Mitchell, while student teaching in Noblesville. Her professional accomplishments include operating the family's furniture and hardware business, pursing real estate, and winning numerous sales awards. Her lifelong dedication to serving the community led her to be an active member of Tri Kappa Inc and the Daughters of the American Revolution. She also served as a trustee at the Tyson Library and the Tyson United Methodist Church. In her spare time, she enjoyed painting, which she received numerous awards, traveling, and spending time with family.

A celebration of life was held at Stratton-Karsteter Funeral Home on Saturday, October 17 at 2:00 p.m. After the service, Louise Mitchell was laid to rest at the Cliff Hill Cemetery. In leu of flowers, memorials may be made to Ripley County Foundation – Louise H Mitchell / Hunter Fund or Cliff Hill Cemetery.