Harold D. Halcomb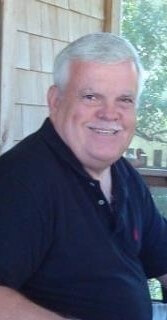 Mr. Harold D. Halcomb, age 69, of Madison, Indiana entered this life on February 19, 1952 in Madison, Indiana. He was the loving son of Willis and Joyce J. Long Halcomb. He resided all of his life in Jefferson County and was raised in Dupont and Madison.

He grew up in the Dupont Baptist Church and later was a member of the Bible Baptist Temple at Lancaster, Indiana. He graduated in 1970 from Madison Consolidated High School where he had played baseball. He then attended Grace College in Winona, Indiana. On May 1, 1971 Harold was united in marriage to Mary Lou Gray at the Dupont Baptist Church by Pastor Dave Mitchell. This happy union of 50 years was blessed with a son, Charlie and a daughter, Jennifer. He began his career in the building supply industry with Bob Hughes at Hughes Supply. Later he owned and operated HH Building Supply and Kitchen Physician. He had worked the last 20 years with Halcomb Home Center in Versailles in kitchen design. Harold loved hunting, fishing, a great story teller, sports especially, IU, Cincinnati Reds and the Indianapolis Colts. Harold was a man grounded in his faith, his family and will be remembered for his devotion to his wife, Mary Lou. He lovingly cared for his mother since the death of his father, and was a great dad and papaw. Harold died on Tuesday, October 26, 2021, at 11:41 p.m. at the Emergency Room of King's Daughters' Hospital in Madison, Indiana.

Harold will be missed by his loving wife of 50 years, Mary Lou Gray Halcomb of Madison, Indiana; his loving son, Charlie Halcomb and his wife Emily of Cincinnati, Ohio; his loving daughter, Jennifer Halcomb and her husband Bradley Bolser of Clayton, Indiana; his adoring grandchildren, Eli Halcomb, Elena Halcomb, and Carter Henderson; his loving mother, Joyce J. Long Halcomb of Madison, Indiana; his brothers, Eddie Halcomb and his wife Mitzie of North Vernon, Indiana, Danny Halcomb of Milton, Kentucky, Tim Halcomb and his companion Marilyn of New Albany, Indiana; his aunt, Thursa Selig of Dupont, Indiana; his brother in laws, Tom Burnette of Dupont, Indiana, Mike Bragg of North Carolina; his sister in law, Marilyn Birge of Madison, Indiana; several nieces, nephews and other relatives. He was preceded in death by his father, Willis Halcomb, died September 9, 2004, his brother, Roger Allen Halcomb, died April 6, 1961, his father in law, Harvey Gray, his mother in law, Burdean Wilson Gray, his brothers in law and sisters in law, Connie Bragg, Donnie Birge, Phyllis Burnette, Ralph Gray and Helen Gray Thompson.

Funeral services were conducted Monday, November 1, 2021, at 11:00 a.m., by Pastor Rod Asher at the Morgan & Nay Funeral Centre, 325 Demaree Drive in Madison, Indiana. Interment followed in the Dupont Cemetery in Dupont, Indiana. Friends visited Sunday from 4:00 p.m. – 7:00 p.m. and Monday from 10:00 a.m. until the time of service at the Morgan & Nay Funeral Centre, 325 Demaree Drive in Madison, Indiana. Memorial contributions may be made to the Indian-Kentuck Baptist Church or the Dupont Cemetery. Cards are available at the Morgan & Nay Funeral Centres of Madison and Hanover. Online condolences, remembrances and memorials can be left at www.morgan-nay.com.