Ida Irene (Schmidt) Jones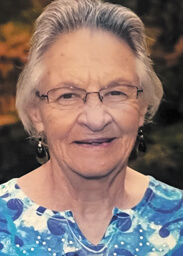 Ida Irene (Schmidt) Jones, age 86 of Osgood passed away on Friday October 21, 2022 in Frankfort, Indiana. She was born on November 4, 1935 the daughter of the late Edward and Sadie (Young) Schmidt in Napoleon.

Ida grew up in the Napoleon community and was a proud Napoleon Bearcat graduate. Upon graduation she entered the workforce and gave over 35 years to the US Shoe Factory in Osgood. She enjoyed watching sports, especially basketball and NASCAR. She was very set in her ways, enjoyed playing solitaire on the computer, and being with her family. She was a long time member of St John Catholic Church in Osgood.

She is survived by son Kenneth Cardinal, daughter Kathy (Rob) Talkington, brothers Donald and Ed Schmidt, sisters Sharon Shockey and Delores Rolf, grandchildren Chad (Tina) Wilson, Jeremy (Anjelica) Wilson, Michelle Cardinal, and Tesa (Jamey) Hickman, and great grandchildren Makenzie Wilson, Maggie Wilson, Jacob Wilson, Chloe Wilson, Wyatt Wilson, Kyana Harbaugh, Aubrey Hickman, and Brady Hickman. She was preceded in death by her parents, brother Charles Schmidt, and sisters Betty Hallgarth and Viola Flint.

Visitation will be held on Saturday October 29, 2022 from 10 am. -12 pm., at Neal's Funeral Home in Osgood. Funeral services will be held at 12 pm., also at the funeral home.
Rosary services will take place at 9:30 am. Online condolences may be placed at Nealsfuneralhome.net

To send flowers to the family or plant a tree in memory of Ida Irene (Schmidt) Jones, please visit the floral store at Neal's website.