James Edward McIntosh Sr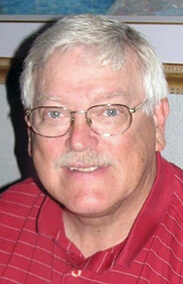 On December 14, 2022 James Edward McIntosh Sr, passed peacefully in the presence of friends and family at the age of 82.

Jim was born in Kings Mills, Ohio to Edward and Frances McIntosh on January 12, 1941. Growing up in Madison and Moores Hill Indiana, Jim discovered a passion for education and science. Jim graduated from Moores Hill High School then Ball State Teachers College. Jim obtained a Bachelor of Science degree from Oregon State University. Over a long career in education Jim was a caring and engaged science teacher, school administrator and fi
nished his career working for the State of Wisconsin as a financial advisor helping schools around the state.
Jim's parents were Edward and Frances McIntosh . Jim is survived by his wife Pat; brothers Kenny (Cheryl) and Deron; his sister Sandy Hollitt; and sisters-in-law Connie McIntosh and Julie Fischer. Jim shared his life with two wonderful families. He was first married to Gloria New and had four children; David, Andrew, Rebecca, and James Jr. Jim had eight grandchildren ; David Jr, Daniel, Kathleen, Jessica, April, Elizabeth, Andy Jr, and Finlay as well as 10 great grandchildren ; Naomi, Bailey, Astra, Thomas, Drew, Aidan, Kayleigh, Jordynn, Mac, and Parker.In July of 1986 Jim married Patricia and joined the lives of her two children Kelly and Michael, and they survive him. His parents and two brothers, Jerry and Ronny preceded him in death.

Jim had a variety of interests and enjoyed learning new things and engaging in projects with zeal. Over the course of his life, he was active in biking, and woodworking. He developed a passion for music, eventually becoming a keyboardist in a rock band. In his retirement he developed a love for participating in local theater. With a deep sense of justice and civic responsibility Jim was active in political life helping to support a variety of causes and running for office himself.

Much of Jim's life was dedicated to the responsibility he felt for helping others in the community be it through teaching, civic work, a simple kind act, or a humorous (though oft educational) story. He also was dedicated to the exploration of philosophical and spiritual connections to our lives. Jim also spent a large portion of his life being active and serving in his local community church, whether it was in Milan, Indiana, Madison Wisconsin, The Villages, Florida, or lastly Decorah, Iowa.

A Celebration of Life will be held at Hope Baptist Church, Dillsboro, Indiana, Saturday, May 6 from 3:00 PM to 4:00 PM. A service will begin at 3:30 PM with Pastor Tom Holt officiating.