Janet Cheryl Burns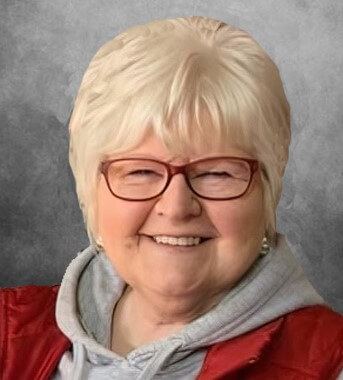 Janet Cheryl Burns, 75, of Columbus, passed away at 12:30 p.m., Thursday, October 27, 2022 at her home surrounded by her loving family by her side. Janet was born in Milan, IN on November 16, 1946 to Ora and Esther Webster Westerman. She married Greg Burns on September 9, 1988.

Janet graduated from Versailles High School and retired from Cummins Engine Company after 30 years of service. She was a member of St. Peter's Lutheran Church, OCU at Cummins and of the American Legion Auxiliary in Versailles, IN. In her spare time, she enjoyed sewing, crocheting, quilting, knitting, dancing, shopping, cooking, canning beets, freezing corn and homemade ketchup with her girls. She enjoyed spending her winters in Florida and loved spoiling her daughters, grandchildren and great grandchildren.
Calling hours will be from 4 p.m. – 7 p.m. Thursday, November 3, 2022 at Jewell-Rittman Family Funeral Home. Private entombment will be held at Garland Brook Cemetery.
In lieu of flowers, memorial contributions may be made to St. Jude Children's Research Hospital or Our Hospice of South-Central Indiana.

Survivors include her husband, Greg; children, Michele (Gary) Clark of Columbus, IN, Tracy (Curt) Davis-Carter of Indianapolis, IN, Kelly (Julia) Davis of Butlerville, IN and Kirk (Treva) Burns of Atlanta, GA; brother, Ted (Susan) Westerman of North Vernon, IN; sister, Fran (Huey) Campbell of Seymour, IN; grandchildren, Suzanne Elsen, Lakin (Mason) Covey, Caleb Gilliam, Blake Davis, Adam (Leigha) Clark, Elisa (Connor) Cotton, Noah Clark, Gabe Beasley, Sam Beasley and Shelby Scroggin; great grandchildren, Jeralynn Covey, Hadley Covey, Ezra Cotton, Alexa Yeomans, Audrina Brown, Blaine Brown and Jameson Brown.

Janet was preceded in death by her parents, Ora Westerman, Esther and Jesse DeLay; daughter, Jane Ellen Watkins; father-in- law and mother-in-law, John and Carol Burns; brother-in-law, Jim Burns.