Janet Eileen Rea Jones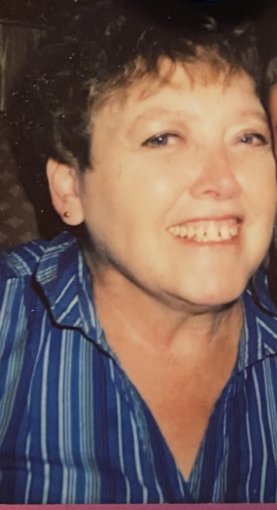 Mrs. Janet Eileen Rea Jones, age 69, of Madison, Indiana near Rexville entered this life on October 27, 1952 in Batesville, Indiana. She was the loving daughter of the late Russell R. and Dova Sedam Rea. She was raised in Rexville and graduated in 1970 from South Ripley High School in Versailles.

She worked early in life as a teller for the Ripley County Bank in Osgood. On January 4, 1974 she was united in marriage to Sam Jones at the New Marion Baptist Church in New Marion, Indiana by Pastor Harold Carter. This happy union of nearly 48 years was blessed with a son, Jeff and a daughter, Kim. She was a devoted wife, loving mom and mamaw. She worked as a homemaker until her children were of age and she then worked as a teller at the Huntington Bank in Nashville, Indiana. Janet and Sam resided in Brown County for 35 years moving back to Rexville in 2005. Janet loved watching the hummingbirds, painting ceramics, and decorating cakes. She fought a long battle with multiple sclerosis since 1994. Janet died on Saturday, December 25, 2021, at 9:30 a.m. at the Margaret Mary Health, Batesville, Indiana.

Janet will be missed by her loving husband of nearly 48 years, Sam Jones of Rexville, Indiana; her loving son, Jeff Jones and his wife, Annie of North Vernon, Indiana; her loving daughter, Kim Jones of Rexville, Indiana; her loving grandchildren, Hunter Ray, Ashley Jones, Payton Jones, Justine Jones, and Megan Jones; her brother, Donald Rea and his wife, Nana of Bedford, Indiana; her sister, Linda Brinson of Ellettsville, Indiana; her brothers in law, Kenneth Jones (Virginia), Ed Jones, Lowell Jones, and Oliver Jones (Carolyn); several nieces, nephews and other relatives. She was preceded in death by her father, Russell R. Rea, her mother, Dova Sedam Rea, her baby sister, Helen Rea, and her sister in law, Wilma Abplanalp.

Private family services will be conducted by Pastor Harold Carter at the Morgan & Nay Funeral Centre, 325 Demaree Drive in Madison, Indiana. Interment will follow in the Shelby Cemetery in Ripley County, Indiana. Private visitation will be held at the Morgan & Nay Funeral Centre, 325 Demaree Drive in Madison, Indiana. Memorial contributions may be made to the Multiple Sclerosis Society. Cards are available at the Morgan & Nay Funeral Centres of Madison and Hanover. Online condolences, remembrances and memorials can be left at www.morgan-nay.com.