Janice Ann Lawton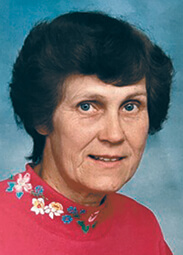 Janice Ann Lawton, 86, of Bennington, IN, born September 21, 1936 in Bennington. She was the daughter of the late Roy E. and Leo Irene (Protsman) Lawton and was a 1955 graduate of Vevay High School.
Janice was employed by the US Shoe Factory in Vevay, retiring after 20 years of service. She owned Janice Lawton Antiques in Bennington for several years. Janice was a member of the Bennington Community Church. She loved antiques, riding her four-wheeler, country-western music (especially Elvis), and being outdoors. Her favorite activities were attending auctions, traveling with her brother, and going to the Grand Ole Opry. Janice was a sweet and generous person who gave of herself in caring for others.
Janice died on September 5, 2023, at the Swiss Villa Nursing & Rehabilitation Center after suffering the debilitating effects of Alzheimer's Disease for many years.
Survivors: brother, Kenny Lawton of Vevay; guardian, Joan Lawton Boyer of Noblesville, IN; nieces, Kathryn "Kathy" Siebenthal Foster of Albuquerque, NM and Nancy Harden of Indianapolis, IN; nephews, Charles "Phil" Lawton of Indianapolis, IN and James "Jim" Lawton of Edwardsville, IL, as well as many friends and neighbors.
Preceded in death by: parents; sister, Wilma Tabor; brother, Gerald Wayne Lawton; infant brother, Wendall Lawton; nieces, Carolyn "Sue" Worley, Martha "Jean" Siebenthal Juszczyk and Margaret Lawton; sister-in-law, Leota Sophia (Detwiler) Lawton and brother-in-law, Jim Tabor.
Visitation was held on September 9, 2023, Haskell & Morrison Funeral Home, 208 Ferry St, Vevay, IN. 47043.
Interment: Slawson Cemetery, Bennington, IN.
Memorials: Slawson Cemetery. www.haskellandmorrison.com