Jeanette R. Brumfield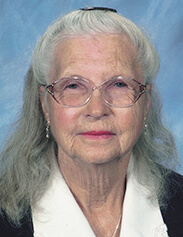 eanette R. Brumfield, 92, of Versailles passed away at 1:45pm, Sunday, November 27, 2022 at the Manderley Health Care Center in Osgood. She was born in Cincinnati on February 13, 1930, the daughter of Andrew and Frances Brooks Van Coney. She was married to Richard Dawson on April 3, 1948 and he preceded her in death on August 21, 1960. She married Fred Brumfield on January 25, 1963 and he preceded her in death on July 3, 1998. Survivors include two daughters Cindy Jennings and Judy Brumfield both of Versailles; 6 grandchildren, 7 great-grandchildren, and 3 great-great-grandchildren. She was also preceded in death by her parents, and her sisters Stella, Alma, Thelma, Katzie, Betty, Laura, Ilene, and Rose.

Mrs. Brumfield was known as the "Plant Lady" in the Versailles community where she operated her greenhouse at Five Points for 35 years. Prior to her move to Indiana she had owned and operated the Gift and Delicatessen store with locations in North Bend and Saylor Park, Ohio. She was also a homemaker and enjoyed time with her large family. Jeanette was a member of the Eastern Star and also the Tyson United Methodist Church.

Funeral services will be held on Thursday, December 1 at 10:30am at the Stratton-Karsteter Funeral Home in Versailles with Pastor Gwen Durkee of the Tyson UMC officiating. Visitation will be held on Wednesday from 5pm to 7pm. Jeanette's wishes were to be cremated and burial will follow at a later date. Memorials may be given to the Ripley County Humane Society in care of the funeral home.