Jerry Adkinson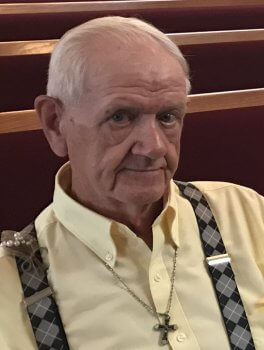 Jerry Adkinson, 81, of Elrod passed away Monday, October 18, 2021 at the St. Elizabeth Hospital in Fort Thomas, Kentucky. He was born in Harrodsburg, Kentucky on June 9, 1940 the son of John and Lillie Dean Adkinson. He was married to Georgia Owens on November 3, 1962 in Moores Hill and she survives.

Other survivors include four daughters Denise (Brad) Rynn of Sunman, Lisa (Kelly) McKeown of Milan, Tonya (Rick) Oakes of Osgood, Lorie (Michael) Taylor of Holton; one son Kevin of Elrod; nine grandchildren and 12 great grandchildren. He was preceded in death by his parents, and his brother Tony.

Jerry graduated from Moores Hill High School (Carnegie Hall) in 1959. He was a 31 year employee of Bruce Miller Oil Company, a former Ripley County Deputy Sheriff under Stanley McClain, and had served as the Moores Hill Deputy Town Marshal under Raymond Gray, and Deputy Marshal under Osgood Town Marshal Glen Gregory. Jerry was a member of the Indianapolis Valley Scottish Rite, Osgood Masonic Lodge, Versailles Church of Christ, Moores Hill American Legion, CB Helping Hands, and had also served as a 4-H leader.

Funeral services were held on Monday, October 25 at 12pm at the Stratton-Karsteter Funeral Home in Versailles. Burial was in the Forest Hill Cemetery in Moores Hill. Memorials may be made to the donor's choice in care of the funeral home.