Kenneth Howard Akers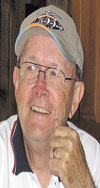 On August 18, 2019, his family and the world lost one of its most kind, patient, and selfless souls.

Kenneth Howard Akers, 81, of Indianapolis, was born in Milan, Indiana on October 30, 1937 to Elvan and Glenna Akers.

Ken was a 1955 graduate of Versailles High School and earned his Bachelor's degree from Indiana University in 1959. He proudly served in the United States Army before becoming a Management Analyst at the Veterans' Administration. Ken retired from the VA after 30 years of service, having received many accolades along the way. He received the "Sagamore of the Wabash", the highest honorary award bestowed by the Governor of Indiana, honoring his civic contributions to the state.

Ken will always be remembered as an incredibly friendly, humble individual with a giving spirit. He was very active both as a member and volunteer at First Baptist Church of Indianapolis for more than 40 years, serving as an usher on Sundays while he organized and volunteered at the church's food pantry throughout the week. Ken was also one of the early leaders of First Baptist Athletics in the 1970's, volunteering and serving as Director of FBA throughout the early 1980's. In addition to all of his work at FBC and FBA, Ken belonged to the Masonic Lodge in Versailles, Scottish Rite, Murat Shrine, and Kiwanis of Indianapolis.

Ken was a true family man and will be remembered by all as a loving husband, father and grandfather. He is survived by his wife of 52 years, Roberta "Bobbie" Akers; children, Kendra (Jayson) Parker, Greg (Sally) Akers, and Krista (Lawrence) Eidson; and grandchildren, Tatum, Abby, Riley, Landen, Tynan, Trip, Janie, Truitt, Claire, and Will. He was preceded in death by his parents and his sister, Judy Akers French.

Visitation will be held at First Baptist Church of Indianapolis, 8600 North College Ave, Indianapolis, on Saturday, September 7, 2019 from 10:00 a.m. – noon, followed by a Celebration of Life at 12:30 p.m.

Memorial contributions may be made to the TatumParkerProject.org, First Baptist Church of Indianapolis, or St. Vincent Hospice, 8450 N Payne Rd #100, Indianapolis, IN 46268.

Arrangements entrusted to A.R.N. Funeral & Cremation Services. Friends may leave a memory or message of condolence by visiting the online obituary at www.arnmortuary.com.