Lt. Cmdr. John "Albie" Damm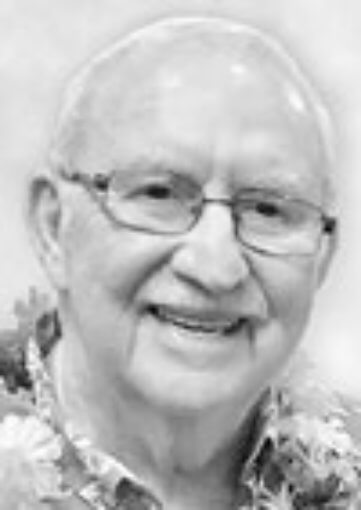 John A. "Albie" Damm, 86, of Cocoa Beach passed away on February 1, 2020. Albie was born in Osgood, home of the Historic Damm Theatre. Despite losing his mother at 6 years old and his father at 17, Albie graduated from Osgood High School while excelling at basketball and baseball. He and his brother Paul milked the family cows twice a day every day until they left for college. They also were the projectionists at the theater every weekend. This instilled a work ethic that lasted a lifetime. He went to the University of Notre Dame where he worked two jobs and played the tuba in the ND marching and concert bands. Albie graduated in 1955 with a degree in Accounting.

After graduation, Albie completed Officer Candidate School and was commissioned in the Navy, where he served for 23 years. The Commanding Officer on his first ship gave him the now world-famous nickname of Albie Damm. His career included tours at sea, in Korea, and in Vietnam with the Seabees. After meeting on a blind date in Pensacola, Albie married the love of his life Joan Farrell on August 20, 1960. The Navy took Albie and Joan and their five children to Japan, Nevada, South Carolina, and California. In 1971, after being assigned to the Naval Ordnance Test Unit at Kennedy Space Center, they finally settled the Whole Damm Family in Cocoa Beach. After retirement from the Navy, Albie and Joan owned the Docktor Pet Center in Merritt Square Mall for 15 years.

Albie Damm was one of a kind with a true love of life and a pure love of people. He was small in stature but big in personality. He enjoyed talking about his Fighting Irish, Hoosier heritage, and where you were from originally. No matter what the topic though, he would always make you laugh. Albie loved playing golf, traveling the world, and bragging about his Damm family. Whether hitchhiking to college, traveling with the band, serving in the Navy, selling pets, or coaching youth sports, Albie never met a stranger and he always made you feel special.

Albie is survived by his wife of 60 years, Joan; his children Susie (Tommy) Spicer, Linda Damm, Carolyn (Brett) Sailors, John (Denise) Damm, Paul (Christi) Damm; his grandchildren Sarah (David) Lee, Will (Ashley) Spicer, Rob Sailors, John (Betsy) Sailors, Lindsey (Nate) Glessner, Charlotte Sailors, Jack Damm, Holly Damm, Matthew Goen, Olivia Goen, Annaliese Damm, and Julia Damm; and 8 great grandchildren; his sister-in-law, Geraldine Damm, and many nieces and nephews. Albie was predeceased by his parents, Lola and John Damm, his sister Kathryn Rutherford, and brother Paul Damm.

He was a longtime member of the Church of Our Saviour in Cocoa Beach, where a funeral mass will be held on Saturday, February 22nd at 1:00 PM. In lieu of flowers, donations may be made to Brevard Alzheimer's Foundation, www.brevardalz.org. You may sign Albie's guestbook at www.beckmanwilliamson.com.