M. Shawn Negangard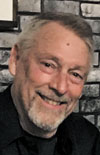 Every community has them, every community needs them… leaders. The town of Osgood lost a true leader on Sunday October 6, 2019. The entire community now mourns the loss. M. Shawn Negangard, age 65, passed away at UC Hospital in Cincinnati. Shawn was a lifelong citizen of the town of Osgood; born, raised, and contributing to as many aspects of the community as he could.

Shawn was born in Milan on February 15, 1954, the son of Charles Franklin and Phyllis (Busteed) Negangard. He grew up in Osgood along with his sisters.

He was a graduate of Jac-Cen-Del High School, Class of 1972. He attended college at Ohio State University, graduating in 1976 with his license in Nursing Home Administration. He would begin his career at Manderley Health Care and would work every aspect of the nursing home industry over the next 40 plus years.

During high school he would find his future wife, Gay Denise Kemker, and they would marry on October 26, 1974 at St. Paul Lutheran Church at Stumpke's Corner. Their union of marriage was blessed with three children. They worked hard to instill their values and beliefs into the lives of their children.

Shawn was dedicated to his family, always supporting them in any event or venture they took part in. However, his family wasn't limited to just the five under his roof. He loved and supported all the residents of his Manderley family. He was determined to provide the residents and their families the best possible care. However, a major part of his life was controlled by "The Tone."

"The Tone" took priority for many years. Shawn was a 40 plus year member of the Osgood Volunteer Fire Department, holding the roles of Chief, Assistant Chief, Captain, Fire Prevention Officer, as well as a member of the Board of Directors. Shawn was a founding member of Task Unit 1 and spent over 25 years in helping others there.

Shawn was a member of the Jac-Cen-Del School Board during the time of construction of the new grade school in 1990. He served as a member of the Osgood Jaycees, Board of Directors of Rescue 69, Osgood Town Board member, President of the Board for Buckeye Village, along with numerous committees over the years. He was also a member of the St. Paul Lutheran Church.

He was recently named Citizen of the Year by the Ripley County Chamber of Commerce.

Shawn believed being called dad was his highest honor; that is until the he met his first granddaughter. His grandchildren would become his greatest treasure, enjoying being there to support them in every activity they participated in from cheer to volleyball to high school dances and beyond.

Shawn will be deeply missed by wife Gay; sons, Shawn (Molly) and Kyle (Ashley Brown) of Osgood; daughter Taneha of Osgood; mother Phyllis of Osgood; granddaughters Avery, Brynn, Zoe, and Alexis; sisters, Judith (Edward) Boutwell of Carmel and Jane (Bill) Obermeyer of Greensburg, along with employees, residents, community members, and friends. He was preceded in death by his father Charles Franklin Negangard.

Public visitation will be held on Thursday, October 10, from 2-8 p.m. at Neal's Funeral Home in Osgood. Funeral service will be held behind Manderley Health Care on Friday, October 11, at 4 p.m. The family would like to invite the public to a celebration of life reception on Friday evening at the St. Florian in Osgood immediately following the service. Dinner and cocktails will be served. There will be a firefighter procession to honor Shawn. Memorials can be given to the Osgood Volunteer Fire Department new truck purchase in care of the funeral home.