Margaret A. (Sizemore) English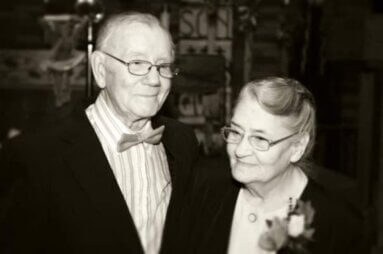 Margaret A. (Sizemore) English, 87, passed from this life May 18, 2022, at her home in Holton surrounded by her family. She was born September 18, 1934, in Hamilton County, OH, the daughter of Hansford and Beatrice Grills Sizemore.

She married the love of her life, Clarence W. English, on September 3, 1954, and they were married until his passing in August of 2013.

Mrs. English loved the Lord and placed Him first in her life. She was a loving person who had a big heart – always giving. She taught Sunday School for over 50 years and was a homemaker helping to raise many children. She loved to cook, garden and preserve food for her family. Before she was married she was a nanny to a Jewish family in Cincinnati and also worked at Kroger.

She is survived by her daughters, Karen Reynolds and Wanda (Gerry) Burnett both of Holton. Grandchildren: Rachel (Eric) Grossman of Holton, Melanie Jo Reynolds of Holton and Gara (Shaun) Kreider of Cape Coral, FL; and Derrick Reynolds of Greensburg.

Great grandchildren include Jacob Grossman and fiancé Katherine Dunbar, Grace and Margaret Grossman of Holton; Keegan and Declan Kreider of Cape Coral, FL; Alex Reynolds of Holton, and Ella Grace Reynolds of Greensburg.

She is survived by one sister, Ruth Taylor of Rushville and numerous nieces and nephews and cousins. Besides her husband and parents, she was preceded in death by five brothers: Charles, Leroy, Kenneth, Marvin and Carl Sizemore, two infant sisters, and her son-in-law David Reynolds.

Funeral services were held Monday, May 23 at 10am at the Stratton-Karsteter Funeral Home in Versailles with Margaret's daughter Rev. Karen Reynolds officiating. Burial was in the Hopewell Cemetery. Visitation was held Sunday from 4pm to 6pm. Memorials may be given to the Hopewell Cemetery or the Dabney Baptist Church building fund in care of the funeral home.