Marian Hazel Koester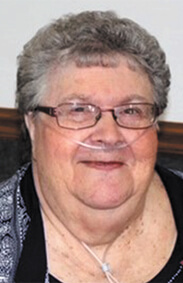 Marian Hazel Koester, age 76 of Sunman, Indiana passed away on Thursday, August 10, 2023 at Decatur County Memorial Hospital.
The only daughter of Leonard and Marie (Hackmann) Miller was born on May 15, 1947 in Cincinnati, Ohio. She married Dale Koester in 1996 at the Milan Methodist Church.
Marian was a member of St. Johns United Church of Christ and was part of SMILES at Church. She was a past member of the Rebecca Lodge and served as a 4-H Leader too. Marian last worked as a parts manager for Tom Tepe Autocenter, originally Chris Volz Motors and prior for Tom Sibbitt Chevrolet in Greensburg.
She is survived by her husband, Dale Koester, cousins, two nieces, two nephews and great nieces and nephews.
Visitation will be Tuesday, August 15, 2023 from 5-7pm at Meyers Funeral Home. Funeral Services are 10:00am on Wednesday, August 16th at St. Johns United Church of Christ in Batesville. Burial to follow at Oakdale Cemetery in Dillsboro, IN. Rev. Joey Feldmann officiating.
Memorials may be given to the Food Pantry in Sunman or BAMA Food Pantry by bringing to services or mailing to Meyers Funeral Home, P.O. Box 202, Batesville, IN 47006.
Please feel free to leave a memory or a message of comfort for Marian's family in the online guestbook at www.meyersfuneralhomes.com.