Marjorie R. Underwood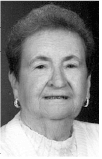 Marjorie R. Underwood, 92, of Versailles passed away at 10:30 am, Friday, December 3, 2021 at the Kings Daughters Hospital in Madison. She was born December 17, 1928 at home on Vernon Ridge, Brooksburg, Indiana. She was the loving daughter of the late, Orville Howard and Cornelia Joyce Heath. She was married to Robert Underwood on June 27, 1948 and he preceded her in death in 2018.

This happy union of sixty-nine years was blessed with three children: two daughters, Susan (Danny Jackson) Underwood and Sally Underwood (Greg) Griffin – both of Versailles; one son, Steven (Natalie German) Underwood of Correct. She is also survived by one step-grandson, Jordan Griffin, and a number of nieces and nephews. She was preceded in death by her parents; Orville Howard Heath and Cornelia Joyce Heath; her husband, Robert B. Underwood; her brother, Graham D. Heath and wife, Hazel; her sisters, Jessie Oresik and husband Ernest, Mary Ward Benham and husband, James, and Phyllis Taylor.

After graduating from Central High School in 1946, Marjorie went to work at the Dime Store in Madison. While at Engels Soda Fountain one evening with friends, she happened to meet a young Hanover College student who would soon become the love of her life – Robert Underwood of Versailles. After moving to the Versailles in 1950, Marge became a full-time homemaker, stay at home mom, and farmer's wife. Marge also worked for a number of years at the Tyson Library. She was a Tyson Methodist Church member for over 70 years, and a long-time member of the local Tri Kappa Chapter. Marjorie was an avid reader and loved visiting with friends and family.

Funeral services will be held on Wednesday, December 8th at 11am at the Stratton-Karsteter Funeral Home in Versailles with before funeral visitation starting at 10am. Burial will be in the Cliff Hill Cemetery. Memorials may be given to the Cliff Hill Cemetery in care of the funeral home.