Mark D. Ruble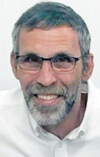 Mark D. Ruble, 61, of Georgetown, Texas, passed away on May 22, 2020. He was born on April 10, 1959 in Greensburg, Indiana to Raymond and Nina (Hafft) Ruble.
Mark was a 1978 graduate of South Ripley High School. Shortly after graduation, he moved to Texas to pursue work in the construction industry. Later, he worked as a manager for Albertsons and Walgreens. His passion was always in construction, which he cherished, and that led him to establish Ruble's Handyman Services in 2013, which he owned and operated until his death.
Mark was a genuine, caring man who was loved by all. He was always willing to lend a helping hand and made an impact on everyone he encountered.
He married his loving wife, Corine De León, on December 31, 1999. They had renewed their wedding vows on January 1, 2020.
He is survived by his wife, Corine Ruble; his daughters, Kristen Ruble, Genevieve Durnin, Kelly (Ruble) Broussard, Jessica Villanueva, and Gabrielle Rico; his sons, John Hernandez and Perfecto Rico; his eight grandchildren; his mother, Nina (Hafft) Ruble; his sisters, Joyce Franklin (Denny Wood), Janet Myers (Mert), Joan Deal, Sheila Ruble, and Anita Strack (Ray); his brothers, Raymond (Peach) Ruble Jr. (Linda), and Tony Ruble (Dionne Spears).
Mark was preceded in death by his father, Raymond and his sister, Phyllis.
Mass of Christian burial will be held on Friday, July 10, at 10 a.m. at St. Patrick's Catholic Church, Madison, Indiana with Father Chris Craig officiating. Burial will be in the St. Magdalene Cemetery, Madison.
A social gathering celebrating Mark's life will be held from 5 p.m. – 8 p.m. on Friday, July 10, at the American Legion Park, Hwy 50, Versailles.
Memorials may be given to the St. Magdalene Cemetery Trust Fund in care of the Stratton -Karsteter Funeral Home in Versailles.