Maurice Earl Meyers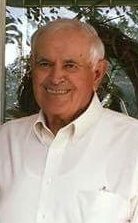 Maurice Earl Meyers, 87, of Osgood passed away May 28, 2021 in Shelbyville. He was born to William and Elsie (Truitt) Meyers on July 19, 1933 in Osgood, Indiana where he grew up with his sister Marian and foster sister Mary Shelton on the family farm.

A proud Osgood Cowboy, he graduated from Osgood High School in the Class of 1951. He later attended Indiana University and graduated in 1955 with a Bachelor of Arts in political science and went on to earn a Master of Science in Education. He married Patricia Stephens, his wife of nearly 65 years, on September 29, 1956.

Maurice worked as a teacher for Jac-Cen-Del Junior High, College Corner Elementary, and Central Elementary School in Lawrenceburg. He was also head coach of varsity girls' basketball at both Jac-Cen-Del High School and Lawrenceburg High School. After retiring, he continued to lend his assistance to coaching staffs in both Jac-Cen-Del and Milan schools. He was awarded the Hoosier Basketball Coaches Association's Distinguished Service Award and was inducted into the Ripley County Basketball Hall of Fame. He retired from teaching and coaching after 37 years in 1994. Maurice served in the United States Army for two years and later served two years in the Air Force Reserve.

He also maintained a farm for most of his life while he taught and after retirement. He was an avid golfer and participated for many years in the World Amateur Handicap Championship in Myrtle Beach. He was a 75-year member of Mud Pike Baptist Church where he served in numerous capacities.

Maurice is survived by his wife Patricia, daughters Diane McKinney and Joan (Paul) Grady, son Bill (Annie) Meyers, ten grandchildren, eight great grandchildren, sister Marian (Ray) Tucker, foster sister Mary Shelton (Jack) Rider and son-in-law Nick Rohlfing. He was preceded in death by his parents and oldest daughter Karen Rohlfing.

Funeral services were held Tuesday, June 1, 2021, at 10:30 a.m. at Mud Pike Church, with burial following at Fink's cemetery. Neal's Funeral Home was entrusted with arrangements.