Maurice Hartman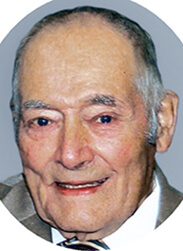 Maurice L. Hartman, age 90 of Sunman, Indiana, passed away Sunday, September 10, 2023, at St. Andrew's Health Campus in Batesville. Born April 29, 1933, in Spades, Indiana, he is the son of Hilda (Nee: Brunsman) and August Hartman. He married Mary Ann Werner on October 17, 1959, at Holy Family Catholic Church in Oldenburg, Indiana.
Maurice was introduced to his wife of 63 years, Mary Ann Hartman (Werner) by his cousin and her friend Pat Moster (Merkel) at a hometown dance. The rest is history. Maurice and Mary Ann built a beautiful family with 9 children, 22 grandchildren and 17 great- grandchildren.
He was a lifelong member of St. Nicholas Church and their Men's Society. Maurice found comfort in his relationship with God. He prayed the Rosary daily. It was his favorite prayer.
Maurice was very involved in many committees and organizations. He was a member of the St. Leon Legion Post 464. He found great joy in his 55 years of service as a Ripley County 4-H Leader. He contributed greatly to local agricultural research through Doune's research, Farm Bureau board and Extension board. He was a member of the Ripley County Extension and 4-H Fair Board for many years as well as the Area I P-Caret representative. He also served as the Farm Bureau Representative for Adams Township for 25 years where he made many good friends.
Maurice retired from Hill-Rom after 40 years of service, as a receiving clerk, in 1996 and spent his time farming, chasing grandkids, and making beautiful woodworks for friends and family. He poured his heart into raising cattle and harvesting grain. After retirement, he could often be found perusing the grounds of his 200-acre of farmland on his 4-wheeler long after the doctor would have advised that he do so.
He is survived by his wife Mary Ann of Sunman; daughters Marcia (Bill) Parcell of Dillsboro, IN and Marlene (Eric) Riehle of Milan, IN; sons Malcolm (Cynthia) Hartman of Francisco, IN, Mark (Tammy) Hartman of Versailles, IN, Marvin (Sue) Hartman of Sunman, Manuel (Jessica) Hartman of Greencastle, IN, Max (Angel) Hartman of Sunman and Mathias (Angela) Hartman of Cummings, GA; sisters Rita Eckstein and Ellen Kirschner, both of Batesville; brothers Michael Hartman of Tampa, FL, Allen (Norma) Hartman of Batesville, Robert Hartman of Brookville, IN, Harold Hartman of Sunman and Daniel (Zita) Hartman of Mason, OH; 22 grandchildren and 17 great-grandchildren. In addition to his parents, he was preceded in death by his infant son Matthew Hartman and sister Miriam Hartman.
Visitation is Sunday, September 17th, from 2 – 5 p.m. at Weigel Funeral Home in Batesville. A Mass of Christian Burial will be held at 10:00 a.m. Monday, September 18th, at St. Nicholas Catholic Church in Sunman, with Fr. Shaun Whittington officiating. The burial will follow at the church cemetery, with military graveside rites being conducted by the St. Leon American Legion Post #464 Honor Guard. Memorial contributions may be made to the St. Nicholas Church Heritage Project or the Ripley County 4-H. For online condolences go to www.weigelfh.com.