Megan M. Mulford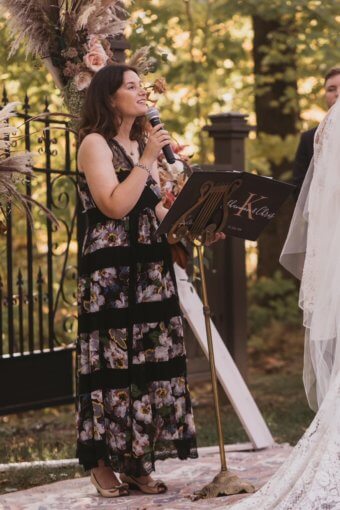 Born in Versailles, Indiana to Bob and Ellen Mulford, Megan grew up with her sister Erin and an extended family she loved dearly. A born performer, Megan sang, danced, and twirled her way through high school before spending four glorious years in the Alpha Chi Omega house at DePauw University. Megan then brought her star qualities to Indianapolis where she obtained a law degree and used her legal powers to help clients bring to life movies, books, music, and other things about which they were passionate.

Megan never lost her love for the arts, the stage, or a microphone and a good karaoke song. She also loved countless other things, including flexing her liberal arts knowledge to humiliate her husband Brian Mosby in Jeopardy. Most of all, Megan loved people and people loved Megan.

Megan is survived by a village of people who love and adore her because through words, actions or a simple smile, Megan made their life better. The village includes everyone privileged enough to call her daughter, granddaughter, sister, wife, mom, aunt, advisor, mentor, patient, colleague, and friend. Megan's boys, Grady and Bodie, and her nieces Meredith, Nora, Kate, and Lauren, hold the most special place in Megan's heart. Her fierce love for them and theirs for her was obvious in every hug, joke, tickle, encouraging text, and talk.

Megan is a shining light for so many and while we miss her, we are thankful to know her spirit will be with us always.

There will be two celebratory services for Megan. The first will be December 22, 2021 at 4:30 p.m., at St. Paul Lutheran Church, Olean (5869 South State Road 129, Versailles, Indiana 47042). There will be no visitation associated with the service. The second will be held at The Indianapolis Children's Museum (3000 N Meridian Street, Indianapolis, Indiana 46208), at a date in the near future.

As Megan preferred, instead of flowers, please consider a donation in Megan's name to METAvivor (https://donate.metavivor.org/give/318818/#!/donation/checkout) or the Alpha Chi Omega Foundation (https://www.alphachiomega.org/axo-foundation/).