Mona D. Burns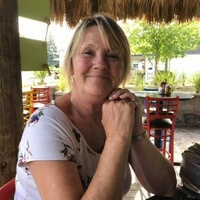 Mona D. Burns, of Milan, was born on August 4, 1953, a daughter to Everett and Christine Fields. She spent her last 20 years of her career at Hollywood Casino in Lawrenceburg. Mona loved working in her flower garden and visiting with her family. She also very much enjoyed being with her Legion Auxiliary friends and working with them at the Milan American Legion Post #235. Mona was a very devoted person to her children, grandchildren and great-grandchildren, she loved spending time with them and all her family. She was a strong believer in Jesus Christ, and she will be missed dearly by her family and many, many friends. On Tuesday, July 6, 2021, at the age of 67, Mona passed away peacefully with her loving husband, Roy Burns Jr., her kids, and grandchildren by her side at St. Elizabeth Hospital in Edgewood, KY.

Those surviving who will cherish Mona's memory include her husband of over 28 years, Roy Burns Jr. of Milan; 6 children, Shelly (Jim) Clark of Pittsburgh, Josh (Katie) Hammond of Aurora, Heather Nance of Vevay, Lauri (Mark) Sturwold of St. Leon, Tom Burns of Sunman, and Doug Burns of Moores Hill; 11 grandchildren; 2 great-grandchildren; 2 sisters; 1 brother; 4 sisters-in-law; 2 brothers-in-law; and a host of nieces, nephews, cousins, aunts, and uncles. Mona was preceded in death by both parents as well as one sister, Pam Craft.

Friends visited with the family on Sunday, July 11, 2021, from 3 until 6 p.m. at Cook Rosenberger Funeral Home, 107 Vine Street, Sunman, IN 47041. Pastor Tom Holt officiated the funeral service at 11 a.m. on Monday, July 12 at the funeral home. Burial immediately followed in the St. Paul Cemetery. Memorial contributions can be directed to the Lupus Association or to the Sunman Fire Department,

To sign the online guestbook or to leave personal memories, please visit www.cookrosenberger.com. The staff of Cook Rosenberger Funeral Home is honored to serve the family of Mona Burns.