Mrs. Janice L. Hankins McClure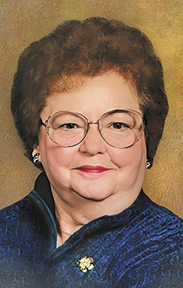 Let Us Pause To Honor the Memory of
Mrs. Janice L. Hankins McClure

Mrs. Janice L. Hankins McClure, age 85, of North Vernon, Indiana formerly of Madison entered this life on July 28, 1937 in Ohio County, Indiana. She was the loving daughter of the late David Edward and Freda E. Thomas Hankins. She was raised in Ripley County in Cross Plains, Indiana. She graduated in 1954 from Cross Plains High School inCross Plains, Indiana. On May 22, 1954 Janice was united in marriage to Donald R. McClure at the Brookville United Methodist Church. This happy union of nearly 59 years was blessed with sons, Rick and Randy and a daughter, Donann. They made their home in the Madison community until they moved to Jennings County in September 2012. Janice retired after 29 years of service with the King's Daughters' Hospital as a CS Tech. She had also worked two years in the dietary department at the Madison State Hospital. Janice was raised in the Cross Plains Baptist Church and had been a faithful member of the North Madison Christian Church for over 60 years. She had attended Bible study for several years at Tea Creek Baptist Church. Janice loved to read and was a faithful supporter of the Shriners and St. Judes. She was a loving mother and grandmother. Janice died on Monday, February 13, 2023, at 4:15 a.m. at the Thornton Terrace Health Campus in Hanover, Indiana.

A LOVING FAMILY
Janice will be missed by her loving sons, Rick McClure and his wife, Karen of Madison, Indiana, Randy McClure and his wife, Michelle of Hanover, Indiana; her loving daughter, Donann Vance and her husband, Kevin of North Vernon, Indiana; her grandchildren, Randy David McClure, Michelle Gray, Daniel McClure, Matthew McClure, Rebecca Cart, Amanda Vance, Zach Vance, Kiersten McClure Cunningham, and Kaden McClure; her great grandchildren, Micheal McClure, Ethan McQueen, David Lee Hayes, Alex Cart, Catherine Cart, and Cashton Cunningham; her sister, Judy Steele and her husband, Bob of Versailles, Indiana; her brother in law and sisters in law, Victor McClure and his wife, Jean; Dolly Stutler; and Betty Hooker all of Milan, Indiana; several nieces, nephews and other relatives. She was preceded in death by her father, David Edward Hankins, died February 9, 2004, her mother, Freda E. Thomas Hankins, died January 29, 2000, her beloved husband of nearly 59 years, Donald R. McClure, died January 6, 2013, and her brothers in law, Darryl Stutler and Arlin Hooker.

FUNERAL CEREMONY
Funeral services will be conducted on Sunday, February 19, 2023, at 2:00 p.m., by Bro. Dan Corbin at the Morgan & Nay Funeral Centre, 325 Demaree Drive in Madison, Indiana. Interment will follow in the Grandview Memorial Gardens, 9306 North U.S. 421 near Madison, Indiana.

VISITATION
Friends may visit Saturday, February 18, 2023 from 4:00 p.m. – 7:00 p.m. and Sunday from 1:00 p.m. until the time of service at the Morgan & Nay Funeral Centre, 325 Demaree Drive in Madison, Indiana

MEMORIAL EXPRESSIONS
Memorial contributions may be made to the North Madison Christian Church. Cards are available at the Morgan & Nay Funeral Centres of Madison and Hanover. Online condolences, remembrances and memorials can be left at www.morgan-nay.com