Nilda Josephine "Jo" "Josie" Cochran Monroe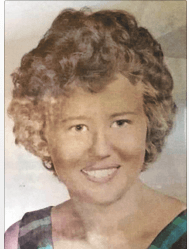 Nilda Josephine "Jo" "Josie"(Cochran) Monroe of Rexville passed away late May 13. She was born on June 11, 1937 in Casey County, Kentucky the daughter of the late Earl and Clara Ann (King) Cochran.

After her graduation from high school in Kentucky, life would see her move to Indianapolis for work. From 1954-1964 she worked at State Auto Insurance Company. While in Indianapolis, she would meet and marry Charles Monroe Jr. on May 3, 1964 in Bedford, Kentucky. Shortly after marriage they would move to Rexville, Indiana where they owned and operated a Phillips 66 Gas/Auto repair Station. Nilda was a homemaker and mother. She later worked for Silver Memories Nursing Home and she worked several years for Muscatatuck as a QMA, before retiring in 2003.

She was baptized at Poplar Grove Baptist Church near Liberty, Kentucky and had attended Bethany Baptist Church in Osgood. She always raised a beautiful garden and enjoyed sewing various things. Most of all she loved her family. Nilda will be missed by son Ricky of Rexville, daughters (Debra (Donald) Dunham of Union, Kentucky and Teresa (Tim) English of Brandenburg, Kentucky, grandchildren Amanda (Tyler) Harris, Kathryn (Jacob Hiles) Dunham, Heather Dunham and Arielle, Renee and Hamilton English, great grandchildren Ryder and Macy Harris, and brother Earl "Roe" (Darlene) Cochran of Carmel. She was preceded in death by husband Charles Monroe Jr., her parents, brothers; William "Bill" Cochran, Lester Cochran and Roger Cochran, and sisters; Kathryn Clifton, Edith Shadone, and Mamie Bowling.

Visitation will be held Friday May 20, 2022 from 4-7 pm. at Neal's Funeral Home in Osgood. Funeral services will be on Saturday May 21, 2022 at 10 am., also at Neal's, with burial following at Benham United Methodist Cemetery. Memorials may be given to the Children's Shriners Hospital in care of the funeral home. Online condolences may be placed at Nealsfuneralhome.net.