Norman P. Kappes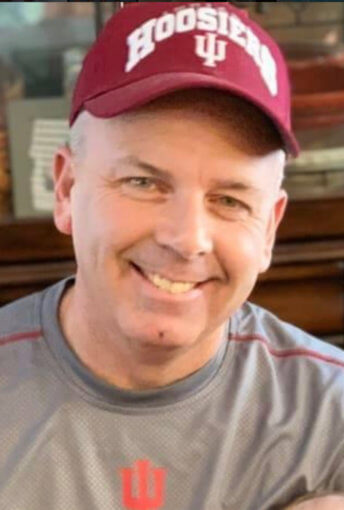 Norman P. Kappes, 53, of Osgood IN, widely and affectionately known as Stormin' Norman, passed away Saturday, January 29, 2022. He was born in Batesville, Indiana on June 13, 1968, the son of Norman C. Kappes and the late Sharon Delay.

Survivors include his wife Kris (Moore) Kappes of Osgood, one daughter Hannah (Dalton) Garnett of Osgood, and two sons, Zachary (Morgan) Kappes of Iowa Park, TX, and Carter Kappes of Osgood; his parents Norman and Connie Kappes of Osgood, one sister, Misty Claypool of Versailles; parents-in-law Carl (Janet) Moore of Osgood; as well as his treasured grandchildren: Jayden Kappes, Weston Kappes, Koleson Kappes, Remington Kappes, Raegan Kappes, and Dax Garnett. He was preceded in death by his mother, Sharon Delay and his brother Joseph Kappes, along with many beloved uncles, aunts and cousins of the Kappes clan.

Norman was a 1987 graduate of Jac-Cen-Del High School. While he participated on many sports teams there, basketball was his true passion. In 1987, Norman was picked as Most Valuable Player in the ORVC, and is currently a member of Jac-Cen-Del Boys' Career Scoring Leaders. Upon graduation, Norman attended some college at Ball State University where he took courses in Criminal Justice, before starting his career of over 30+ years at the United Parcel Service (UPS). While Norman was an Osgoodian through and through, he was also beloved by the Greensburg community in which his route was delivered to day in and day out. He made many friends along his route.

Norman had a servant's heart, which was evident in the way he selflessly served his community. He served on Osgood's Task Unit 1 as a volunteer First Responder, and for 22 years on the Osgood Volunteer Fire Department. He was a first class firefighter, as well as an instructor to many. He held 1st, 2nd and 3rd LT offices, received Fireman of the Year recognition for saving a life without hesitation, and achieved the rank of assistant chief before his retirement from the department.

In March of 2008, Norman began serving on the Osgood Town Council, where he then served as the Town Council President for nearly 7 years beginning February of 2015 to January 2022. In his spare time, Norman greatly enjoyed following the Jac-Cen-Del Eagles and could be seen attending many games, whether at home or on the road. He was also a passionate IU basketball fan, sporting his crimson and cream on any given day.

Norman also delighted in time spent outdoors, especially time spent caring for and mowing his yard, camping and beach trips, going on Jeep cruise rides with his wife and friends, hanging out poolside with his family, or helping his dad and uncles cut wood. He enjoyed Saturday morning coffee runs with friend Steve, listening to country music, and looked forward to visits or zoom calls from each of his beloved grandchildren. In earlier years, he enjoyed coaching his children in youth sports, which included many scrimmage just-for-fun basketball games in their driveway.

Norman had many "jobs" and titles, but his most treasured role—his pride and joy—was in being a loving, supportive and do-anything-for-his-kids father to his three children, with his favorite title being "Papaw" to his 6 young grandchildren that he loved dearly and wholeheartedly enjoyed. His family and cherished friends will always treasure and perpetuate his memory and carry him in their hearts. The Osgood community and his family have lost an incredible man, will forever mourn him, and forever be grateful for all the loving memories and selfless service.

Visitation will be on Wednesday, February 2nd at Neal's Funeral Home in Osgood from 2 p.m. to 7 p.m. Funeral services will take place Thursday, February 3rd at Neal's Funeral Home at 10 a.m., with burial service to follow after at the St. John's Catholic Cemetery. Family and friends are welcome to gather for dinner following burial services at the St. Florian Event Center in Osgood. Memorials may be given to the Osgood Volunteer Fire Department or the Jac-Cen-Del Scholarship Foundation in care of the funeral home. Online condolences may be placed at Nealsfuneralhome.net.