Norris E. Krall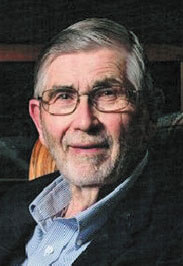 Norris E. Krall, 88, of Osgood, passed away at 1:20 p.m., Monday, November 7, 2022, at Arbor Grove in Greensburg.

He was born on Tapps Ridge in Switzerland County on February 8, 1934, the son of Elmer and Norma Whitham Krall. He was married to Mary Elizabeth Lock on June 29, 1956, and she preceded him in death on October 8, 1981. He married Gloria Joan Tucker Martin on August 14, 1982, and she preceded him in death on December 20, 2017.

Survivors include three sons: James Kenneth (Linda) Krall and Michael Krall, both of Osgood, and Terry (Diane) Krall of Carmel; one step-son Anthony (Debra) Martin of Fairland; three step-daughters Michele "Mitzi" (Rodger) Chapelow of Zenas, Kimberly Martin of Franklin, and Candace (Danny) Robinson of Shelbyville; six grandchildren, 14 step-grandchildren, 10 great-grandchildren, 12 step-great grandchildren, and two step-great-great-grandchildren. He is also survived by his special friend, Rheadawn Metz of Greensburg.

Mr. Krall was a 1951 graduate of Vevay High School and graduated from Indiana University with distinction in 1955 with a degree in Business Administration. He served in the US Army from 1956 to 1958 as a Lieutenant in the Finance Corps at Ft. Benjamin Harrison. Mr. Krall was a Certified Public Accountant and was employed with Thomas & Skinner in Indianapolis for 36 years where he served as a controller, secretary, treasurer, vice-president, and president. He continued to serve as Chairman of the Board at age 80 in 2014 at which time he resigned and was named Director Emeritus for life.

He and Joan had written several history books including Lest We Forget, a history of Ripley County's part in WWII. Norris was a member of the Dabney Baptist Church and was a life member and a former director of the Ripley County Historical Society.

Funeral services will be held on Friday, November 11 at 12 p.m. at the Stratton Karsteter Funeral Home in Versailles with Rev. Mark Sorrels officiating. Burial will be in the Greendale Cemetery in Osgood with military rites by the Versailles American Legion. Visitation will also be on Friday beginning at 10 a.m. Memorials may be given to the Dabney Baptist Church or the Ripley County Historical Society in care of the funeral home.