Olga (Lipphardt) Patrick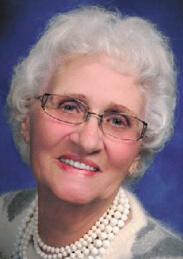 Olga (Lipphardt) Patrick, 94, passed away peacefully August 22, 2022. She was born on September 6, 1927 in Tsingtao, China to German refugees Karl and Olga (Neumann) Lipphardt.

Olga first married at age 19 to John Etchison, a United States Marine, from Crawfordsville, Indiana. His untimely death sent her on a journey alone to America after WWII, with their infant son in tow. She went on to meet and marry Kenneth Hendrix, who was a Lutheran minister in training at the time. Together they had four children, one daughter and three sons. On June 20, 1957, Olga officially became a Naturalized Citizen of the United States of America. She was so very proud of that and talked about it often. Kenneth preceded her in death in 1980.

She enjoyed various types of needlework, such as crochet, cross stitch, and embroidery. She even successfully mastered crewel embroidery – a technique using wool yard that dates back to medieval time periods used in tapestries and clothing. Her mother was a seamstress, so she naturally excelled in these hobbies. Collecting knick knacks and making crochet clothes for dolls (especially Kewpies) were things she enjoyed doing to pass the time.

At age 80, Olga found a new love and life with Earnest Patrick, of Holton, Indiana. He quickly became a beloved part of the family, and they were blessed with several years together before his passing in 2017.

She is survived by her children – daughter, Joyce (Doc) Banks; sons, Michael (Barbara) Hendrix, Timothy Hendrix and Karl (Beverly) Hendrix. She is also survived by 15 grandchildren, 30 great-grandchildren, and 15 great-great-grandchildren. Her son, John Etchison; brother, Robert Lipphardt; grandson Chris Etchison; and great-grandon, Tyler Smith, also preceded her in death.

Visitation and funeral services will be held at Stratton Karsteter Funeral Home, Versailles, Indiana, on Friday, August 26, 2022, from 1 p.m. and the funeral will be at 2 p.m. Burial services will follow in Tanglewood Baptist Church Cemetery, Versailles, Indiana.