"Omar" Gilman Brumback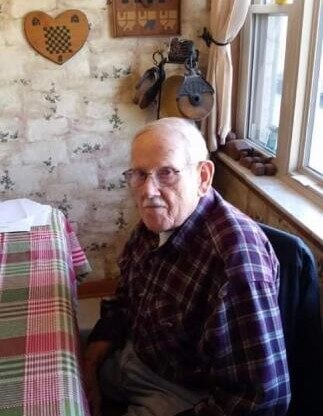 World War II Veteran, "Omar" Gilman Brumback, age 99 passed away late August 27, 2021. He was born on January 15, 1922, in Madison County, Kentucky to parents Samuel J. and Mattie (Irvine) Brumback. He married Emma Jane Sparks on July 31, 1943, in College Hill, Kentucky. She preceded him death on April 13, 2013.

Upon their marriage they remained in Madison County, however early in 1945, Omar enlisted in the United States Navy. He was assigned on the USS Guam and was in battle in the Inland Sea area of Japan. Upon completion of his service in 1946, he and Emma moved to Osgood. They bought a 50-acre farm outside of town and spent 4 years on the farm before purchasing a home in the newly developed Hillcrest Development in Osgood. Omar at the young age of 98 could be seen cleaning the gutters on that house last year.

When they came to Osgood, Omar went to work at the Milan Furniture Factory until it closed in the late 70's. He then went to work as custodian at Jac-Cen-Del for 5 years. He was honored on May 27, 1986, not only for his retirement, but also perfect attendance for all 5 years. Upon retiring, Omar and Emma bought a camper and were able to travel and enjoy fishing and camping. They purchased a campsite at Tall Oaks outside of Batesville.

Survivors include sons Jerry Brumback of Whetstone, AZ and James (Joy) Brumback of Holton, daughter Betty Mains of Versailles, grandchildren; Jimmy (Lindsey) Brumback, Sarah Mozingo, Kim (Brian) Johnston, and Michelle (Eric) Blomer, along with 11 great grandchildren and 1 great great grandchild. He was preceded in death by wife Emma, his parents, and grandson Sam Brumback.

Visitation was held on Monday evening from 4-6 pm. at Neal's Funeral Home. Funeral services with Military Honors at 6 pm., also at Neal's. Online condolences can be placed at Nealsfuneralhome.net.