Paul D. DeBurger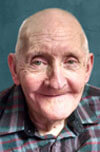 Paul D. DeBurger, age 86, of Brownstown, passed away on Tuesday, April 23, 2019, at Hoosier Christian Village
Mr. DeBurger was a member of Shelby Christian Church, Paul and his wife Sandra recommitted their lives to Christ in 2013 at the Medora Christian Church.
Paul was self employed and retired from the timber and sawmill industry.
Born on June 11 1932, in Versailles, Indiana he was the son of Jessie Otis and Florence Gail Kuhn, both of whom preceded him in death.
After the death of the love of his life and mother of his three children, Maybeth Ann Hammon, he married a wonderful woman, Sandra Smith and she survives. He loved his winter trips to Florida, attending Nascar races, and always cheering on Jeff Gordon, but horses were his passion. His love for his family was phenomenal. His quick wit and humor will be missed by all who knew him.
The family would like to say a special thank you to the Hoosier Christian Village for his exceptional care and becoming part of their family over the past few years.
Survivors also include two sons: Dale (Vickie) DeBurger of Seymour, Donald (Alicia) DeBurger of Florida; one daughter, Lisa DeBurger of Brownstown; one stepson: Thomas Burton; two stepdaughters: Holly Wagner, and Constance Hunt – Dennis; grandchildren: Gabriel (Cheyenne) DeBurger, Jacob DeBurger, Andi Allman, Rusty (Nikki) Reynolds, Tesa Volpe, Lynnea (Charles) Amaya Marin; and great grandchildren: Bryce, Gracie, Chesney, Marley, Paxston, Ariana
Besides his parents, he was also preceded in death by two sisters: Beatrice (Don) Littel, and Pauline (George) Turner.
Funeral services for Paul D. DeBurger will be conducted at 10:30 a.m. on Friday, April 26, at Spurgeon Funeral Home, Inc., Brownstown, with Pastor Rob Johnson officiating. Friends may call from 5:00 p.m. until 8:00 p.m. on Thursday, April 25, at Spurgeon Funeral Home, Inc., Brownstown, and from 9:30 a.m. until the time of the service on Friday at the funeral home. Burial will be at Shelby Christian Church Cemetery, Versailles.
Memorials may be given to Don & Dana Myers Cancer Center, Seymour or Krannert Institute Cardiology, Indianapolis.
Arrangements are being handled by Spurgeon Funeral Home, Inc. Online memorials and condolences may be given at www.spurgeonfh.com