William N. (Bill) Hughes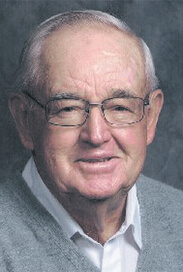 William N. (Bill) Hughes, 89, of Correct passed away at 10:05p.m., Saturday, June 10, 2023 at Riverwalk Village in Noblesville. He was born at home in Rexville on Wednesday, May 16, 1934, the son of Marion and Evelyn Brinson Hughes. He was married to Wilma (Winnie) Black on May 16, 1953 and she preceded him in death on August 27, 2015.

Survivors include one son William J. Hughes of Noblesville; one daughter Dianna (Fred) Swinney of Madison; four grandsons J.D.(Elizabeth) Swinney of Ft. Knox, Kentucky, Adam Swinney (Wesley Henry) of Essex, Connecticut, Ryan (Kate Larson) Hughes of Corning, New York, and Jon (Heather) Hughes of Noblesville; 6 great-grandchildren; one brother S. Wayne (Rosemary) Hughes of Monument, Colorado. He was also preceded in death by his parents.

Mr. Hughes was a 1952 graduate of Versailles High School. He was a well-known farmer in the community, being one of the first to employ no-till conservation farming which earned him the title of "no-till Bill". He and Winnie raised tens of thousands of quail, pheasants, and chukars on their farm which they marketed to local individuals as well as game reserves. He enjoyed hunting, and "inventing" things on the farm when the need arose, but his favorite past time was pulling practical jokes. Bill was a member of the Versailles Baptist Church for over 70 years, was a member of the Versailles Lions Club, Ripley County SWCD, and was a lifetime member and volunteer for the Big Oaks Conservation Society where he was instrumental in some restoration of Old Timbers. He was given the Distinguished Service Award and was named Lion of the Year by the Versailles Lions Club in 2014, won the 1986 ORTHO No till Contest, and was the Big Oaks 2009-2010 Outstanding Volunteer.

Funeral services will be held on Saturday, June 17 at 11a.m. at the Versailles Baptist Church with Rev. Mike Cantrell officiating. Burial will be in the Cliff Hill Cemetery. Visitation will be on Friday from 5p.m. to 8p.m. at the Stratton-Karsteter Funeral Home in Versailles and from 10a.m. Saturday until time of services at the church. The Versailles Lions Club will conduct services at 7:45p.m. Friday at the funeral home.

Memorials may be given to Janus Developmental Services in Noblesville, Cliff Hill Cemetery, or Big Oaks Conservation Society in care of the funeral home.