Richard M. Smith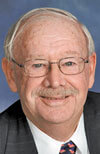 Richard M. Smith, 78, of Westport, peacefully went home to be with the Lord with his family at his bedside at 3:45 p.m. on Friday, May 3, 2019 at Franciscan Health Campus in Indianapolis. He was born on May 30, 1940 in Indianapolis, the son of Frank M. & Jean E. (Raeburn) Smith.
He was raised in Milan, lived there for over 30 years and had moved to Westport in 2004. He was a 1958 graduate of Milan High School. He retired from BCA-Federal Mogul in 2000 after 21 years of service. Richard was a member of the Westport Baptist Church, he pastored at Holman Christian Union Church, Mud Pike Baptist Church and was Associate Pastor at 1st Baptist Church of Milan. His most important love was Jesus. He has served on Westport Town Board since 2016. He coached and had been president of Little League Baseball League in Milan and a member of the Life Squad from 1978-2004. He was a member of the Westport Volunteer Fire Department, volunteered at Our Hospice and worked with the Good News Club at South Decatur Elementary School. He enjoyed woodworking and jewelry making. He enjoyed spending time with his grandchildren and great grandchildren. Richard was a veteran having served in the U.S. Navy.
He married Joyce K. Gibson on March 31, 1962 at the Washington Baptist Church in Elrod, and she survives. Other survivors include his sons, Robert (Hilary) Smith of Denver, Colorado and David (Allie) Smith of Brunswick, Georgia; daughter, Tabitha (Shawn) Alvarado of Westport; sister, Kay (Bob) Russell of Moores Hill; brothers, Alec (Dephane) Smith of Milan, and Dale (Claudia) Smith of Largo, Florida; 12 grandchildren, Jessica, Christopher, Hannah, Sarah, Evelyn, Maggie, Evie, Seth, Gabby, Christina, Alisha, Jonathon and eight great grandchildren, Mya, Danielle, Malina, Braydon, Danny, Katlyn, Bethanie and Dante; and several nieces and nephews. He was preceded in death by his parents; sister, Betty Stutler; brothers, Jack Smith and Ronald Smith; grandson, Josh Maddux.
Funeral services will be conducted at 11:00 a.m. on Tuesday, May 7, at the Westport Baptist Church with Pastors David Scaggs, Paul May and Harris Long officiating. Burial will follow at Bear Creek Cemetery with military graveside rites. A time of visitation will be held on Monday, May 6, from 4:00 until 8:00 p.m. at the Bass & Gasper Funeral Home. Memorial contributions may be made to the Westport Baptist Church or the Westport Volunteer Fire Department through the funeral home. Online condolences can be made to the family at www.bassgasper.com