Robert A. "Bob" DeBurger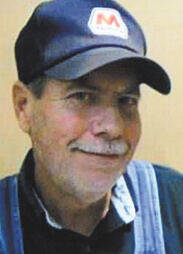 Robert A. "Bob" DeBurger, 63, of Osgood passed away Saturday morning, August 12, 2023 at the Christ Hospital in Cincinnati. He was born in Batesville on November 13, 1959, the son of Ralph and Mary Hockersmith DeBurger.
He was married to Jeanne Jackson on September 6, 1980 and she survives. Other survivors include his mother Mary DeBurger of Osgood; one daughter Sarah DeBurger (Franklin Gomez) of Osgood; two brothers Larry (Connie) DeBurger of LaGrange, Kentucky, and Gary (Connie) DeBurger of Osgood; two sisters Sue (Mike) DiBease of Batesville and Cheryl (Bob) Parker of Plainfield; two grandchildren Emily and Gabriella. He was preceded in death by his father and his sister Sandra Robertson.
Mr. DeBurger was a 1978 graduate of Jac-Cen-Del High School. In his working career Bob was employed with the Jay C Stores as a meat cutter and also with the Blue Flame Gas Company in Versailles. He retired after 20 years with the Ripley County Highway Garage. He also had operated Bob's Sharp-All and Repair in Osgood. Bob was known as a very caring individual who enjoyed his family, fishing, hunting, and "checking out" different locations on his golf cart.
Funeral services will be held at 7p.m., Wednesday, August 16 at the Stratton-Karsteter Funeral Home in Versailles with Rev. Becky Pohle officiating. Visitation will begin at 5p.m. Memorials may be given to the Shelby Cemetery or the Osgood Fire Department in care of the funeral home.