Robert E. Smith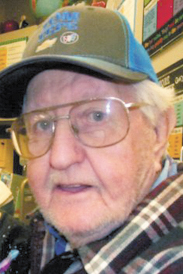 Robert E. Smith, 91, of Versailles, passed away at 5 a.m., Monday, August 22, 2022, at his home. He was born in Anderson on March 29, 1931, the son of Edward and Jessie Gray Smith. He was married to Esther Wilson on June 3, 1950 and his wife of 72 years survives.

Other survivors include three sons: Lloyd (Debbie) Smith and Randy Smith both of Versailles, and Eddie (Barb) Smith of Cross Plains; one daughter, Diane (David) Harding of North Vernon; 10 grandchildren and 18 great-grandchildren.
He was preceded in death by his parents, his son John, daughter Melinda Smith Thompson, granddaughter Jennifer Smith, and his brothers Donald and Lawrence.

Mr. Smith was a 1950 graduate of New Marion high School and attended meat cutting school in Toledo, Ohio for two years. Bob's working career involved meat cutting for Stark & Wetzel in Indianapolis, Kroger's, and also for the Cragmont State Hospital in Madison. He was also a dairy farmer untl 1983 when he and Ester moved to Orlando, Florida. While in Orlando, Bob worked for the water plant there doing maintenance. He and Esther returned to Ripley County in 1990 and Bob worked as an attendant at the Muscatatuck State Hospital. While working his farm and his job, Bob found time to fish, hunt and enjoyed raising goats.

Bob was a lifelong member of the Tyson United Methodist Church in Versailles and was a former member of the Madison Moose Lodge.

Funeral services will be held on Saturday, August 27 at 1 p.m. at the Stratton-Karsteter Funeral Home in Versailles with Pastor Darren Burton officiating. Burial will be in the Salem Cemetery near Cross Plains. Visitation will also be on Saturday beginning at 11 a.m. Memorials may be given to the cemetery in care of the funeral home.