Robert James Risk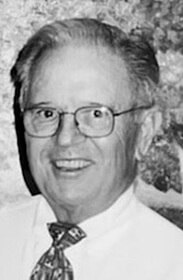 Robert James (Jim) Risk, 95 of Evanston, IL, formerly of Valparaiso, IN, passed away peacefully, surrounded by family on Friday, February 10, 2023. He was born July 4, 1927, in Fort Wayne, IN to Clifford and Estella (Kline) Risk who were both schoolteachers. When Jim was only four years old, his father was killed in an automobile accident. His mother later remarried Herman Royer.
Growing up in Milan, Indiana, a 1945 graduate of Milan High School, he loved basketball; playing on the same court as the film, Hoosiers was based on. Jim proudly served in the United States Navy from 1945-1947, and later received his B.S. '48 in Mathematics and a M.S. '52 in Education from Indiana University.
On June 7, 1952, in Fort Wayne, IN Jim married the love of his life, Rosemary DeWood. They were married for 61 years when she passed away in 2013. Together they had six children, nine grandchildren and two great-grandchildren.
More than anything else, family was Jim's whole life. Their happiness and well-being always came first. He is survived by his children: Bill Risk of Lehigh Acres, FL; Cindy Risk of Valparaiso, IN; Pamela Kendall (Mark) of Evanston, IL; Susan Matejka (Mark) of Wilmette, IL; Michelle Risk of Waukegan, IL; Bob Risk (Melissa) of Hilton Head Island, SC and grandchildren Michael (Kayleigh) and Daniel Risk (Amber), Breanna, Abby and Jonathan Kendall, Hannah and Sam Bottum, Molly and Charlie Risk and great-grandchildren Harper and Foster Risk.
In addition to his family, Jim loved working with young people in education and he thrived on mentoring teachers and future administrators. Jim had one standard- do what is best for the students.
With over 50 years working in education, he began his career as a math teacher and football, basketball and track coach in Rensselaer, Indiana. He was the Assistant Principal of Crown Point High School and then in 1954 he was named the principal of Brazil High School. Several firsts were among his many roles, he was the first principal of Penn High School in Mishawaka, Indiana and the first principal of Joliet East High School in Joliet, Illinois. He served as superintendent of LaSalle-Peru Township in Illinois for four years during which time he opened a vocational center serving 18 high schools offering training in 16 different fields.
In 1970 he was hired as the Superintendent of Valparaiso Community Schools for which he served for 20 years before retiring in 1990. He oversaw the building and staffing of a new high school in 1972. During this time, he, along with three other superintendents, founded Porter County Career Center (an alternative and vocational high school).
In 1982 Jim traveled to Washington, D.C. to receive The Excellence in Education award given to him by President Ronald Reagan. Jim was awarded Superintendent of the Year by the Indiana Music Educators in 1985. He also served as head of Indiana State Teachers Association, the NEA (National Education Association), and the Indiana Association of Public-School Superintendents. He enjoyed teaching business classes at Valparaiso University as well as math at the Westville Correctional Center.
In retirement he became interim superintendent for the Indiana school districts of Munster, Hebron, Michigan City and Terre Haute. Additionally, in retirement he was the director of the Porter County Career Center (which he helped to found) and worked at the Alternative High School serving Munster, Highland, Griffith and Calumet, Indiana.
Jim was an active member and President of the Valparaiso Rotary Club, President of the Valparaiso Chamber of Commerce (awarded the Distinguished Community Leader Award in 1990), President of Porter County United Way, Chairman of both Christmas in April, and the Popcorn Festival. He was also Chairman of Valparaiso University Campaign Drive. Additionally, he served on the YMCA Advisory Board, Friends of the Arts Board, and the Community Theater Board.
Passionate about all sports, Jim especially loved golf (achieving three holes in one) and was also an avid bowler. Jim supported all sports at Valparaiso High School and could be seen at most games. He was an advocate for women's sports and was the driving force behind the auxiliary gyms in the middle schools. He pushed for both the building of the fieldhouse and fitness rooms at the high school. He was inducted into the Valparaiso High School Athletic Hall of Fame. Long before Nike said it, James was noted for saying, "If you're going to get something done, do it!"
Jim, a lifelong Methodist, stayed active in the church both serving on and chairing various boards and committees. A friend among friends Jim could be seen with a deck of cards in his hand well into his nineties ready to take on anyone willing to try to beat him at any number of games.
Jim was preceded in death by his parents, Clifford Risk, Estella Risk, Herman Royer; brother, J. Fred Risk; and his beloved wife, Rosemary.
A memorial service will be held on Saturday, April 1, 2023, at 11:00 a.m. at the First United Methodist Church, 516 Church St., Evanston, IL.
A reception will be held on Sunday, April 2, 2023, from 11:00 a.m. to 1:00 p.m. at Valparaiso Country Club in Valparaiso, IN. A private graveside service was held at Graceland Cemetery in Valparaiso, IN. In lieu of flowers, the family requests memorial donations be made to the R. James and Rosemary Risk Scholarship Fund: https://www.pccf.gives/risk
Moeller Funeral Home is entrusted with arrangements.