Roman M. Johannigman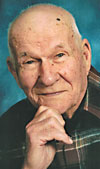 Roman M. Johannigman, 91, Millhousen, passed away on March 25, 2020 at his home surrounded by his family. Born March 15, 1929 in Decatur County, he was the son of Mathias and Cecilia (Thole) Johannigman.

Roman graduated from Napoleon High School. He joined the Army and served his country during the Korean Conflict from 1951 until 1953. Roman worked as a farmer and owned Johannigman Excavating in Millhousen. He was a member of Immaculate Conception Catholic Church and the Knights of St. John both in Millhousen.

Roman was married to Marjorie L. Scheidler on August 2, 1952 and she preceded him in death on January 13, 2005. Roman is survived by seven sons: Roman J. (Jean) Johannigman, Jr., Greensburg, John W. (Cindy) Johannigman, Millhousen, Edward M. (June) Johannigman, Millhousen, Paul J. (Marcie) Johannigman, Millhousen, James A. (Peggy) Johannigman, Millhousen, Joseph D. (Donna) Johannigman, Millhousen, and William C. (Nicole) Johannigman, Millhousen; three daughters: Jane Ann (Kevin) Faulconer, Greensburg, Jean (Mike) Hooten, Osgood, Joan C. (Jimmy) Arnold, Milford, one sister; Carolyn Gallagher, Indianapolis, 28 grandchildren, and 29 great grandchildren.

He was preceded in death by his parents, wife Marjorie Johannigman, and two brothers Urban Johannigman and Justin Johannigman.

Due to the recent public health safety mandate of limited gatherings, a private graveside service was held for the immediate family on Saturday, March 26, 2020 at the Immaculate Conception Catholic Cemetery in Millhousen with Rev. John Meyer officiating. A memorial Mass will occur at a later date.

Memorial contributions may be made through Porter-Oliger-Pearson Funeral Home to the Immaculate Conception Cemetery Fund or Our Hospice.

Online condolences can be made to the family at www.popfuneralhome.com.