Rose Weigel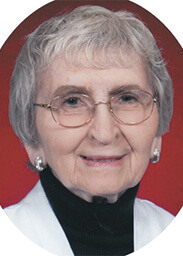 Rose L. Weigel, age 95 of Batesville, Indiana, died Tuesday, June 20, 2023 at St. Andrew Health Campus in Batesville. Born December 20, 1927 in Batesville, she is the daughter of Theresa E. (Nee: Bedel) and Leo C. Holtel. She married Leon M. Weigel November 27, 1952 at St. Anne's Catholic Church in Hamburg, Indiana and he preceded her in death on January 17, 1983. Rose was a homemaker and also worked part time for many years at Weigel Funeral Home doing secretarial and custodial duties, before retiring. She was a member of St. Louis Catholic Church and its Ladies Society and the Knights of St. John Ladies Auxiliary.
Rose enjoyed cooking and baking, especially for her family. Family favorites included her sour cream coffee cake, iced sugar cookies, buckeyes, potato salad, and chicken nuggets and fries for the grandkids. She had a bit of a sweet tooth herself and would never turn down chocolate and ice cream. A jar of M&M's could always be found on the kitchen counter.
She had a green thumb and enjoyed flower gardening. Rose always had lots of plants and flowers both inside and outside the home. She also enjoyed watching birds at the feeders, especially the hummingbirds.
She enjoyed reading romance novels, watching soap operas and Hallmark movies and sitting on the porch visiting with family. The grandkids would often play wiffle ball in her yard. Grandma was the official cheerleader, but if the ball hit her, it was an automatic out.
Rose was a devout Catholic woman. She sponsored children through a Catholic children's charity. She supplied St. Louis festival with over a dozen pies, numerous coffee cakes, cakes, trays of brownies, dozens of cookies and jellies.
She was most happy living a simple life at home surrounded by family. Her grandchildren and great-grandchildren always brought her joy which was evident by the smile on her face.
She is survived by her daughters and son-in-law Pam and Bill Koehne of Greensburg, Indiana and Debbie Weigel of Batesville; sons and daughters-in-law Gary Weigel of Batesville, Ron and Beth Ann Weigel of Batesville, Jim Weigel of Batesville, Steve Weigel of St. Leon, Indiana, Chuck and Angie Weigel of Batesville; sister Catherine "Katie" Holtel of Hamburg; sister-in-law Karen Weigel of Greensburg; brothers-in-law Don Weigel of Batesville and Glen Personett of Lake Placid, Florida; grandchildren Steve Koehne, Kim Koehne, Andrew (Liz) Weigel, Brittany (Jacob) Steuver, Brian (Mary) Weigel, Kelly (Sam) Rodino, Lizzy Weigel, Nick Weigel, Sam Weigel, Noah Weigel and Abigail Weigel; great grandchildren Riley and Ryan Weigel, Layton Steuver, Vincent and Baby Weigel on the way. In addition to her parents and husband, she was preceded in death by her daughter-in-law Christina (Deddens) Weigel; sisters Theresa Greiwe, Rita Grote, Marie Meehan, Clara Schwering and Alma Personett; brothers Frank, Charles and Leo F. Holtel.
"We would like to thank all of the nurses, aides and staff at St. Andrews for all of the years of exceptional care given to our Mom and also to the Margaret Mary Hospice staff, especially Susan and Aubrey for their care and support over these past several months." -The Weigel Family
Visitation was held Monday, June 26th, from 4 – 7 p.m. at Weigel Funeral Home in Batesville. Mass of Christian Burial was at 10 a.m. Tuesday, June 27th at St. Louis Church with Rev. Carl Langenderfer, O.F.M. officiating. The burial followed in the church cemetery. Memorial contributions may be made to Cincinnati Children's Hospital Crohn's Research. Online condolences may be made at www.weigelfh.com