Sara Rita Scroggin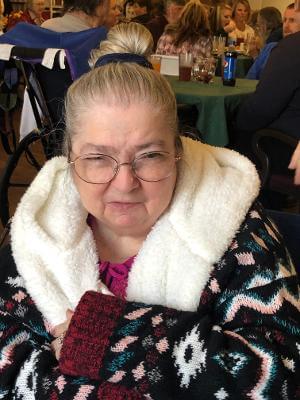 Sara Rita Scroggin, age 67 of Osgood passed away on Friday November 19, 2021 at Silver Memories in Versailles. She was born on August 16, 1954 in Milan, IN the daughter of the late Kenneth and Evelyn (Morrison) Bush, Sr.

Sara was a graduate of Gilford High School. Her disabilities limited her working, but she loved to volunteer at the Salvation Army. She helped out with various other tasks as she could. She would meet and marry the love of her life Jerry Scroggin on March 3, 1986.

Sara's health would see her move into the nursing home in 2013, where Jerry faithfully visited until his death in 2020. Sara enjoyed the activities in the nursing home from making arts and crafts to watching movies. She was an avid Elvis fan and had collected memorabilia throughout the years.

She will be missed by children Cathy Frye, Brian Pyres, and Helen Carter, siblings; Kenneth (Ethel) Bush, Jessie (Larry) Meece, Ernest (Lelah) Bush, Sr., Judy (Dan) Meyers, Darla (Mike) Rousch, and Dwayne Bush, Sr., several grandchildren, and numerous great grandchildren. She was preceded in death by husband Jerry, her parents, and sister Edwina.

Visitation will be held on Friday November 26, 2021 from 10 am. -12 pm. at Neal's Funeral Home in Osgood. Funeral Services will be held at 12 p.m. also at Neal's. Burial will follow at Shelby Christian Church. Memorials can be given to Silver Memories activity fund in care of the funeral home. Online condolences can be placed at Nealsfuneralhome.net.