Sarah Amelia Webster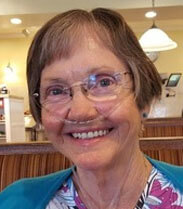 Sarah Amelia (Hook) Webster, 79, passed away on March 25, 2022 at her home in Port Orange, FL. Sarah graduated from Jac-Cen-Del High School in Osgood, IN in 1961. She attended Purdue University and graduated from Indiana University in 1967 and earned a Master's of Library Science at the University of Maryland in 1976. She worked as a Librarian in Maryland, Florida, and at Bartholomew County Public Library in Columbus, IN. She retired from Volusia County Public Library in Ormond Beach, FL as a Reference Librarian. She was a faithful member of First Baptist Church, South Daytona, FL.

Sarah loved to travel with her family and photographed everything from A to Z wherever she went. She loved to read books and to keep a very detailed journal. Sarah was a very sweet and loving wife, mother, grandmother and great-grandmother and an endearing friend to all she met. She was gracious, warm and a joy to be with. She loved the color purple, flowers, and piecing together puzzles on the back porch. Although her health had been declining over the past few years, she still fought to her last breath to continue life. With her love of Jesus, she lives on, but will be deeply missed.

Mrs. Webster was born March 15, 1943 in Batesville, IN, daughter of Benjamin F. Hook and Thelma Irene (Day) Hook. She married Gerald (Gary) Loyd Webster on August 8, 1964 in Osgood, IN.

Survivors, include her husband, Gary, daughter, Deborah, and son, Timothy (Jennifer). Grandchildren, Sarah, Amber (Brandon), Shelby, Kirk, Nicholas and great-grandchildren, Aubrie and Jackson. Sisters, Nancy Bruns of Plainfield, IN and Clara Jackman (Leslie) of Columbus, IN. She was preceded in death by her parents, brothers, George and James Hook (Patty) and sister, Marguerite Couvillion (Richard).

Services were handled by Cardwell, Baggett & Summers Funeral Home, 301 Big Tree Rd, South Daytona, FL. Visitation was held Friday April 1, 2022 at 12 pm, and the service followed at 1 pm.