Sherron Bultman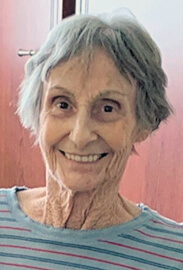 Sherron Ann (Miller) Bultman, age 81, formerly of Osgood passed away on Friday March 3 at the Covered Bridge Health Campus in Seymour.  She was born on March 2, 1942 the daughter of the late Charles and Ann (Kestler) Miller.

She was a graduate of Osgood High School Class of 1960.  She continued her education in radiology at Cincinnati.  She moved to Madison and spent 27 years working for Kings Daughter Hospital in the radiology and medical records departments.

In 1991 life would see her transition to the Port Charlotte, Florida area.  She continued working in the medical field working in local doctor offices.
She loved the Florida lifestyle.  Her favorite past time was to grab a book and soak in the sun.  In 2019 she returned to her Indiana roots.

Sherron is survived by son Dennis (Julie) Bultman on North Vernon, granddaughters Kayla (Cody) St. John of North Vernon and Kylie Truesdell of North Vernon, niece Tracey (Mark) Holmes of Kenosha, Wisconsin and nephew Curt Schmidt of Louisville.  She was preceded in death by her parents, sister Bonita Kay Schmidt, and aunt  Betty Kestler Hopkins.

Private graveside services will be held.  Online condolences may be placed at Nealsfuneralhome.net
To send flowers to the family or plant a tree in memory of Sherron Ann (Miller) Bultman, please visit our floral store.