Stephanie Jane Thompson &
Mya Jeanette Thompson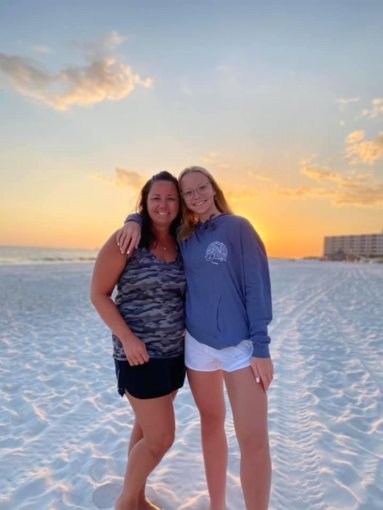 Stephanie Jane Thompson, 48 and Mya Jeanette Thompson, 17 of Monticello, passed away on Thursday, February 17, 2022 at their residence.

Stephanie was born on September 23, 1973 in Madison, IN to the late George Bedunah and Susan "Pat" Owens. She married Jason Thompson on July 7, 2001 in Monticello.
Stephanie was a 1992 graduate of South Ripley High School and received her Bachelor's Degree in Criminal Justice from Indiana State University in 1996 as an avid member of the Delta Gamma Sorority. Stephanie went on to graduate from the Indiana State Police 56th Recruit Academy in 1998. While working for the state police, she was a recipient of the Lifesaving Award and received a Letter of Commendation Award for going above and beyond the call of service. Stephanie was a CPR and First Aid instructor, Radar instructor, First Responder instructor, attended the Academy for Scientific Investigative Training in Pennsylvania, was a member of the American Association of Police Polygraphists, a counselor at Hoosier Girls State and the Indiana State Police Recruit Academy, and served as a Hurricane Katrina relief volunteer. Stephanie worked tirelessly and received many letters of appreciation for her professionalism, being an exemplary role model, and going above and beyond the expectations in her work. Stephanie had also served in the Army Reserves.

She was the first CSI to recover Touch DNA in a crime scene and was part of the Indiana Governor's security detail. She was passionate and highly involved with investing into the next generation. She coached for Twin Lakes Volleyball, Boiler Juniors Volleyball, and Stars & Stripes Volleyball. She was also an USA Swimming official. She spent many years investing in the lives of youth with First Presbyterian Church CIA youth group. She chaperoned numerous trips, mentored the local teens, and helped lead students into a growing relationship with Jesus Christ.

Along with her husband, Jason, she is survived by her parents, Jeff and Patricia Sue Owens and oldest daughter, Ayanna Gabrielle Thompson of Monticello; brothers, Jimmy Bedunah of Branchville, IN, Todd Helton of Deputy, IN; sisters, Mandy Owens of Brunswick, Maine and Shelby Budunah of Milan, IN; aunts & uncles, Teri Cutter and Terry Stutler, Kim and David Sturgill, Kenny and Debbie Jordan, Tony and Shari Pennington, Shelley and Darrell Smith, Ruick and Gwen Pennington, Cheryl and Dana Hooten, Judy Wright, Joyce and Jerry Vogel, Earline Copeland, Kevin and Naomi Tunny, Tina Bardell, and Vernice Stratton.

Stephanie is preceded in death by her biological father, George Bedunah, grandparents Nevel and Edna Pennington, and grandparents Joe and Susan Owens.
Mya was born on October 10, 2004 in Lafayette, IN to Jason and the late Stephanie (Owens) Thompson.

Mya was a junior and accomplished student athlete at Twin Lakes High School. Mya was a member of the National Honor Society, White County 4-H, Boilermaker Aquatics, Twin Lakes Swim Team, Twin Lakes Tennis Team, and the Twin Lakes Roadies Club. Mya was a dedicated athlete with a contagious positive attitude. She had a great sense of humor and was an inspiration to all. She enjoyed experimenting with various foods, reading books with her friends, listening to vinyl records (especially her Grandpa Buzz from 1978), and thrifting and altering fashion wear. Mya had the unique ability of using her skills of painting, embroidery, and her creative talents to take something ordinary and make it extraordinary.

Along with her father, Jason, she is survived by her older sister, Ayanna Gabrielle Thompson of Monticello; maternal grandparents, Jeff and Patrica Sue Owens of Milan; paternal grandparents, Harvey "Buzz" and Ruth Thompson of Dennison, IL and Avery and Elsie Collins of Bridgeport, TX; maternal step grandmother, Debbie Bedunah of Dillsboro, IN; aunts and uncles, Mike and Lynn Thompson of Westfield, IN, Bryan and Rita Thompson of Israel, Scott and Gia Thompson of Cleveland, OH, Tammy and Larry Owens of Paradise, TX, and Amanda (Thompson) and Kevin Cassidy of Aurora, IN, Jimmy Bedunah of Branchville, IN, Todd Helton of Deputy, IN, Mandy Owens of Brunswick, Maine and Shelby Budunah of Milan, IN. Mya is preceded in death by her maternal grandfather, George Bedunah.

Visitation for both Stephanie and Mya will be held on Thursday, February 24, 2022 from 2:00 pm to 8:00 pm at the Twin Lakes High School Main Gym. Funeral Services will be held on Friday, February 25, 2022 at 11:00 am at the Twin Lakes High School Main Gym officiated by Larry Owens, Jay Janke, and ISP Chaplain, Daniel Coffey. Burial will follow at Riverview I.O.O.F. Cemetery in rural Monticello.

In lieu of flowers, donations for Stephanie may be made to the Indiana State Police Alliance. Memorial donations for Mya may be made to the Indian Aquatic Booster Club, Inc. or you can make a contribution to the Scholarship Fund being established through the Community Foundation of White County. Envelopes will be available at the Twin Lakes High School Gym. Friends and family are encouraged to share a photo, a memory, or a message of condolence at www.springerfuneralhome.com.