Susan Elaine (Gilbert) Ricke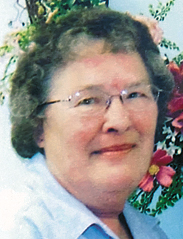 Susan Elaine (Gilbert) Ricke, 80, of Osgood, IN passed away on Sunday, July 10, 2022, at Manderley Health Care Center in Osgood, IN. She was born on September 9, 1941, in Milan, IN to the late Frank Warner and Margaret Ann (Chestnut) Gilbert.

Susan was great in the kitchen; known for her sugar cookies, fresh corn, and of course her fabulous peanut butter fudge. She was a very talented seamstress and enjoyed using her talents in sewing, knitting, crocheting, and quilting to bring joy to others. She was the best at remembering birthdays and events and sent more greeting cards than you could imagine. Susan was always up for a glass of cold Pepsi, and a game of Yahtzee with her grandchildren. She loved going to the casino with her good friends Ruth and Maxine, taking trips with her sisters, yard sales, flea marketing, and most of all spending time with her family, especially her grandchildren and great-grandchildren.

Her beautiful life will forever be cherished by her family: her husband Richard Ricke, Sr., and their three sons: Richard (Nancy) Ricke Jr., James (Andrea) Ricke, Kevin (Jennifer) Ricke, daughter-in-law, Renee Ricke, sisters; Barbara "Jane", Frances, and Maudie.

She was the loving grandma to 11 grandchildren; Laci, Keith, Jimmy, Regina, Christopher, Sarah, Tara, Brent, Cordell, Jacob, Julia, and 9 great-grandchildren; Kayla, Desiree, Madelynn, Dylan, Dawson, Kyndall, Theo, Tripp, and Jase.

She was also preceded in death by her parents, son, Timothy Ricke, grandson, Justin Ricke, brother, Buck, and sister, Nancy.
At Susan's request, there will be no funeral or memorial service.