Thomas H. Magill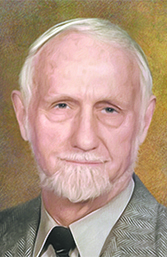 Let Us Pause To Honor the Memory of
Mr. Thomas H. Magill
Thomas H Magill, age 84, of Indianapolis and formerly of Madison, during his last days was surrounded by his loving family and passed peacefully into the arms of his Savior on March 5, 2023. He was born on September 27, 1938 in Sharpsburg, Pennsylvania, the son of Roscoe and Virginia Magill. Tom was united in marriage to Janice Smith on November 22, 1962 and she survives. His other survivors include his daughter Melanie and her husband Dave Riley of Madison, his son Tim Magill and his wife Bliss of Indianapolis; his granddaughter Kayla and her husband Brandon Billstrand of Boerne, Texas, his grandson Nathan Riley and his wife Madison of Fort Wayne, his granddaughters Zoe and Bryn Magill of Indianapolis; his great-granddaughters Everleigh Riley and Natalie Billstrand whom he said in his last months had made his life complete; his brother Steve Magill and his wife Judy of Pittsburgh, Pennsylvania, his sister-in-law Judy Smith of Lawrenceburg and several nieces and nephews. He was preceded in death by his parents, his son David Magill, his brother-in-law Jerry Smith, his brother Ross Magill and his sister Nancy Jockel.

After graduation from Bellevue High School in Pennsylvania he joined the US Army on March 23, 1959 and served in active duty in Korea for 3 1/2 years, rising to the rank of Specialist 4, and was honorably discharged on February 28, 1965. In 1966 he completed the Journeyman Electrician program at Cummins Engine Co in Columbus, Indiana and was employed there for 30 years as an electrician. He was a member of the Diesel Workers Union. After retiring from Cummins he started a family business, T-Square Renovations, and bought, remodeled and sold houses in Madison and Hanover. Throughout his life he enjoyed working in his woodworking shop on many projects the biggest of which was building his first home in which his family lived for 27 years.

He enjoyed hunting with his sons and friends, he liked traveling to many places with his family and camping with the Berners, and driving his Dodge Ram pick-up truck with it's Cummins Diesel Engine. In 1999 he enjoyed being an extra in the making of the movie "Madison" and his small speaking part in the discussion at the poker table with the guys at the boat house. At the time of his death he was a member of Advent Lutheran Church in Zionsville and prior had been an active member of St. Paul's Lutheran Church in Cross Plains and Faith Lutheran Church in Madison serving the Lord as needed. He was the Secretary-Treasurer of the local branch of Thrivent Financial for Lutherans for 25 years.

FUNERAL CEREMONY
Funeral services will be conducted Monday, March 13, 2023, at 11:00 a.m., by Pastor Jeffrey Pflug at the Faith Lutheran Church, 3024 North Michigan Road in Madison, Indiana. Interment will follow in the St. Paul Lutheran Cemetery at Dewberry, Indiana.

VISITATION
Friends may visit Sunday from 4:00 p.m. – 7:00 p.m. at the Morgan & Nay Funeral Centre, 325 Demaree Drive Madison, Indiana and Monday from 10:00 a.m. until the time of service at the Faith Lutheran Church, 3024 North Michigan Road in Madison, Indiana.

MILITARY HONORS
A final Salute and military honors will be provided by the Major Samuel Woodfill Post No. 9 of the American Legion.

MEMORIAL EXPRESSIONS
Memorial contributions may be made to mission fields of the Faith Lutheran Church, or the St. Paul Lutheran Church at Dewberry or the Advent Lutheran Church in Indianapolis. Cards are available at the Morgan & Nay Funeral Centres of Madison and Hanover or at the churches. Online memorials, condolences, and remembrances may be left at www.morgan-nay.com