Timothy Benham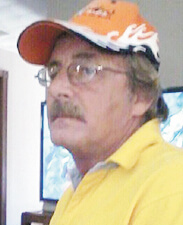 Timothy L. "Tim" Benham, 58, of Osgood passed away Tuesday, November 7, 2023 at the Margaret Mary Community Hospital in Batesville. He was born in Batesville on July 21, 1965, the son of Dale and Bonnie Holman Benham.
Survivors include three sons Ethan (Megan) Benham and Justin Benham both of Osgood, and Tristian Benham of New Marion; one daughter Julian Benham of New Marion; five grandchildren Addyson, Ariel, Abigail, Alana, and Hunter; three brothers Raymond (Peggy) Benham, Greg (Marisa), and Kenny (Tonya) Benham all of Osgood; one sister Beverly Benham also of Osgood. He was preceded in death by his parents.
Mr. Benham logged with his family in his younger years and was also an independent truck driver. Tim enjoyed fishing and hunting and especially spending time with his grandchildren.
Funeral services were held on Saturday, November 11 at 10:30 a.m. at the Stratton-Karsteter Funeral Home in Versailles with Rev. Mark Shonk of the Cedar Creek Community Church officiating. Burial was in the Benham Cemetery. Visitation was held on Friday from 5 p.m. to 7 p.m. Memorials may be given to the Benham Cemetery or the donor's choice in care of the funeral home.