William "Bill" McCreary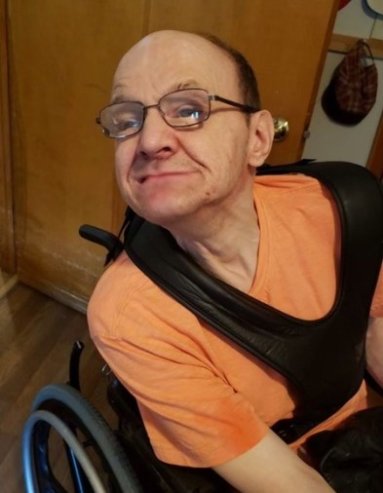 William "Bill" McCreary, 63, of Indianapolis, IN, went to be with the Lord on February 24, 2021.  Bill was born September 9, 1957 to Harold and Ruth (Hill) McCreary in Versailles, IN.  At birth, Bill was diagnosed with cerebral palsy, mental limitations, and an inability to hear or speak.  Doctors told Harold and Ruth that Bill would not live six months and to institutionalize him.  Harold and Ruth made the courageous decision to bring Bill home, where he lived for six years.  Despite the communication challenges, Bill understood the unconditional love of his family, giving him a foundation of happiness, joy, and peace.

Even when Bill moved to professional care, he remained an active part of the family through participating in all family gatherings, frequent visits, and special outings.  Bill's favorite place to venture was McDonald's.  Bill also loved attending a week-long summer camp at Bradford Woods, where he was able to enjoy nature and other camp activities.  Bill's other favorite activities included eating, creating art, working puzzles, and looking through magazines and tearing out the inserts to complete.

God gave Bill an inordinate amount of love that he regularly shared with anyone who knew him.  Bill was always happy, offered hugs to everyone he met, and brightened any room he entered.  Bill was a ray of sunshine in any and every circumstance and a blessing to his family and countless other individuals. Although Bill had numerous life challenges, he was a fighter who long outlived his life expectancy.

Bill is survived by his father, Harold McCreary; brother, Bob (Sheila) McCreary; sister, Theresa (Tony) Stokes; sister, Sue (Warren) Aton; sister, Tammy (Brent) Sandefur; nephews, Don McCreary, James Sandefur and Lakshan Salgado; nieces, Cindy Johnson, Julie Monroe, Camille and Brittany Aton, Tonya Salkie, and Tracy Concannon; and 15 great nephews and nieces.  Bill is proceeded in death by his mother, Ruth McCreary. The family would also like to thank Gail Mehrlich of New Hope of Indiana, Justin Group Home and affiliated Staff members who have provided such loving care for Bill over the last 30 years.

Visitation was held at A.R.N. Funeral & Cremation Services, 11411 North Michigan Rd., Zionsville, IN, on Monday, March 1, 2021.  A Catholic funeral mass followed at Saint Monica Catholic Church, 6131 Michigan Rd., Indianapolis, IN.

In lieu of flowers, the family is requesting memorial contributions be given to newhopeofindiana.org or sent to New Hope of Indiana, 8450 N. Payne Rd., Suite 300, Indianapolis IN 46268.