William Caray Wilson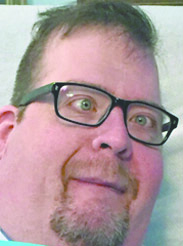 William Caray Wilson, age 51, of Moores Hill passed away on Sunday evening surrounded by his family. William was born on July 25, 1971 the son of Phillip Wilson and Deborah Patton in Dearborn County, Indiana.

William fought health issues his entire life, but was a proud graduate from Milan High School Class of 1990. He had a passion for eagles and loved everything about them. He enjoyed listening to music and watching various movies. He was able to accumulate a large collection of cds and videos. He liked to chat with his family and friends on the computer. His greatest joy always was his family. The visits from his niece and nephews were always cherished moments.

William will be dearly missed by his mother Deborah (George) Patton, brother Phillip Terry (Denise) Wilson Jr., stepsisters Resa (Robert) Horton and Kimberly (Steve) Durant, step grandmother Loretta Patton, cousins Lynn and Chad, nieces Jessica (Nick) Beagle and Chloe, nephews Levi (Cara) Wilson, Mason, Grant, and Oliver, along with great nieces Madison, Makayla, and Abigail, and great nephew Grayson. He was preceded in death by his father Phillip Terry Wilson Sr.

Visitation will be held on Friday July 22, 2022, from 10 am.-12 pm. at Neal's Funeral Home in Osgood. Funeral services will be held at 12 pm. also at Neal's. Burial will follow at Craven's Cemetery in Milan. Memorials can be given to the National Eagle Center in care of the funeral home. Online condolences may be placed at Nealsfuneralhome.net.