Wilma (Menchhofer) Greene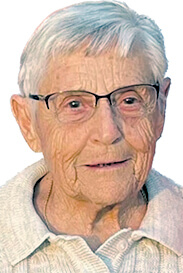 Wilma Greene, age 92 of Madison passed away at Sacred Heart Hospital in Miramar, Florida on February 19, 2023, while vacationing with family. She was born on May 20, 1930 in Ripley County the daughter of the late Henry and Ethel (Dorrel) Menchhofer.

She attended Versailles High School graduating in 1949. After high school she worked at Kroger in Cincinnati with brother Irvin. She later met Vyrell Greene and they were united in marriage on September 30, 1952. They were married for over 50 years prior to his death in 2006.

Wilma loved her family and the family farm. She was always there when it came to raising a garden, tobacco and cattle; but, still made sure everyone had a good meal and no one ever left hungry. She spent twenty years working at Jay-C, but the vast majority of her working career was to make the house a home.

She will be dearly missed by children Freda Kegley of New Point, Rick (Jill) Greene of San Marcos, Texas, Mindy Barbe of Indianapolis, and Jeff (Diane) Greene of Fort Collins, Colorado, grandchildren; Christa, Ryan, Jeff, Seth, and Cody, along with 9 great grandchildren, and sister Rose Westerfeld of New Point. She was preceded in death by husband Vyrell, her parents, son-in-laws Michael Kegley and Charles Barbe, granddaughter Stephanie, great granddaughter Michaela and brothers; Clarence, Irvin, Floyd, Paul, and Ray, sisters Viola Arsenault and Opal Belter, and sister in-law Glenna Vanosdol.

Visitation will be held on Friday March 3, 2023 from 5-7 pm. at Neal's Funeral Home in Osgood. Funeral service will be held on Saturday March 4, 2023 at 1 pm., at the funeral home, with Pastor Becky Pohle officiating. Burial will follow at Benham Cemetery. Proudly serving as Pallbearers will be; Jeff Greene Jr., Seth Greene, Cody Greene, Adam Menchhofer, Dwight Menchhofer, Adam Burress, and Honorary Matthew Menchhofer. Memorials can be given to Benham Cemetery in care of the funeral home. Online condolences may be placed at Nealsfuneralhome.net

To send flowers to the family or plant a tree in memory of Wilma (Menchhofer) Greene, please visit our floral store.